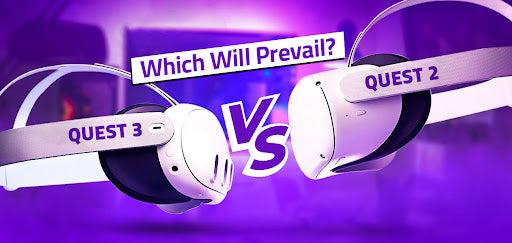 Quest 3 vs. Quest 2: Exploring the New Frontiers of Virtual Reality
Ever since the announcement of Meta Quest 3, the VR world has been thrown into a debate about whether or not one should make the purchase. It's hard to see the difference at times considering that we might just need the same old Oculus accessories to help us get a better playtime. We are sure that there will be a new market of Quest 3 accessories by the time November 2023 rolls around. Regardless, Meta Quest accessories are here to stay and evolve just as much as our favorite headsets. 
While the new Meta Quest 3 shares a host of similarities with the Quest 2 that's been reigning supreme, there are still a host of differences. These differences in the software and hardware of the new and old will help you choose the best for your own VR gaming experience. The upgrades are phenomenal! 
In this blog, we'll see how the two headsets differ and how the new frontiers of virtual reality stack up! 
Cool or Cute: Quest 2 & Quest 3 Compete
Quest 2 and Quest 3 are unsurprisingly pretty similar when it comes to the aesthetics of the headset. However, there are some differences like the following:
Dimensions of the Quest 2 and Quest 3
The Quest 2 has been measured to be 7.5 x 4 x 5.2 inches. On the other hand, the new and upcoming Quest 3 has been advertised as a headset that will be 40% thinner than the Quest 2. 
The Weight Difference We Expect to See in Quest 3 
Coming in at 1.1 pounds, the Quest 2 is well known for causing pain in the neck and the back. The Quest 2 players rely on Meta battery packs for providing a counterweight to balance the weight. In Quest 3, we hope that the thinner headset will mean a lighter headset.   
Camera Setting on Quest
The cameras on the front of the Quest 2 headset are spread out around the Quest 2 headset. Quest 3 on the other hand has 4 additional cameras in the left and right pill designs on the front of the headset. 
Updated Controller Designs in Quest 3
Quest has dropped the tracking ring from the controller design of the Quest 3 which was an identifying feature in Quest 2 controllers. With Quest 3, you will get controllers that are similar to Touch Pro that came with Quest Pro. 
Hardware & Software Components of Quest 2 & Quest 3
Within the hardware and software of the two Quests, we found some great changes in Quest 3. However, it is important to remember that Quest 2 itself was a marvel and ahead of its time when it was released.  
Processing Power: A Notable Difference
Quest 2 came out and challenged the contemporaries of its time. Quest 2 worked with Qualcomm Snapdragon XR2 Gen 1. The GPU initially worked at 490 Mhz and then was steadily increased to 525 Mhz and now it works at 625 Mhz. 
Quest 3 has the Qualcomm Snapdragon XR2 Gen 2 that has raised the bar in the VR world. Zuckerberg claims that the headset's GPU is going to be more powerful than the Quest 2. The Quest 3 will have LPDDR5 storage much quicker than the LPDDR4X storage found in Quest 2.   
Quest Gets a RAM Upgrade
The RAM has also been upgraded in Quest 3 to 8 GB which remained 6 GB in Quest 2. For storage, the Quest 2 and 3 are pretty similar with availability in 128 GB and 256 GB. 
New Quest and New Lenses
The Fresnel lens will not have a place in Quest 3 and this means that Quest 3 will not have dreaded sunlight-related damage to the display.  We are getting pancake lenses in Quest 3 and this news couldn't have made us happier! 
Expectations in User Experience: Feel the Difference!
We are getting new features in Quest 3 that evolved from Quest 2, consider the following: 
The Difference is in the View! 
Quest 2 has been a faithful companion for many of us. With Quest 2, we saw a huge jump in the graphics and display from Quest 1. Quest 2 has an LCD that shows a resolution of 1832 x 1920 pixels per eye. The refresh rate for Quest 2 remained at 60, 72, and 90 Hz. Quest 3 has a resolution of 2064 x 2208 pixels per eye with a refresh rate of 120 Hz. These specs already show that Quest 3 is going to give Quest 2 a run for its money.  
Face Shield in Quest 2 & Quest 3 
The Quest 2 facial interface went through a recall phase when it started irritating the skin of its users. The company sent back silicone face shields to attach to the Quest 2's face shield for a better experience. Quest 3 will come with detachable face shields that will allow the users to have a light-free VR experience. Will Quest 3 allow VR accessories to have room for third-party face shields? This remains to be seen!
Let's not forget that unlike Quest 2, Quest 3 has more flexibility in adjusting IPD. There will be room for more Quest accessories in this space. 
Passthrough in Quest 3
The difference is quite striking when it comes to Passthrough. The Quest 2 Passthrough is a low resolution of 1280 x 1024 pixels per eye. The view is in grayscale at worst and a little colorful yet grainy at best. Whereas, the Quest 3 will have a colorful Passthrough and users will get a better resolution.
Gaming Experience with the Quests
Quest 2 and Quest 3 will have access to the same Quest library. However, thanks to the difference in GPU and RAM, we will see better gameplay in Quest 3 when compared to Quest 2. There will be no latency issues and the graphics will be better for it. However, we believe that with higher processing power requirements, the Quest 3 will need the Meta Quest 3 battery pack just like users have to use the battery pack for Quest 2.
Quest 2 vs. Quest 3: Value for Money
Quest 2 retails at $299 currently while Quest 3 will retail at $499 with the same 128 GB memory. Here it is worth noting that Meta dropped the price of Quest 2 to $299 from $399. It jumps from $100 to $200 depending on what you paid for Quest 2. The users might just end up buying VR battery packs to support Quest 3 but we say it'll be worth the money to add extra playtime! 
At this point, the buyers should consider for themselves, are the features, hardware, and software worth the price. Because we think that the headset is worth buying for a smoother VR experience.  
Are You Grabbing a Quest 3 Soon? 
The upgrade to Quest 3 may not be worth it for everyone, but for those seeking the latest advancements in VR technology, it's worth considering. Personal preference plays a crucial role in the decision-making process. 
Will the Meta Quest 3 accessories become common just like VR accessories for Quest 2? We don't know. But if you're looking for accessories for Quest 2, don't forget to check out our website!
We cannot however ignore that the Quest 3 is going to be a smooth ride from hardware to software. So, to those who do end up buying this powerful headset: Happy VR gaming!