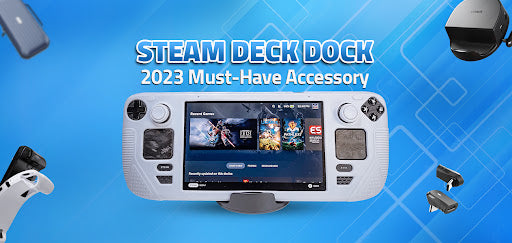 Steam Deck Dock: Most Essential Steam Deck Accessory in 2023
The gaming world has been buzzing with excitement ever since the Steam Deck release, the revolutionary handheld gaming device from Valve. This powerful gadget allows you to play your favorite games wherever you go, but to truly elevate your gaming experience, there's one accessory that stands above the rest of the Steam Deck accessories: the Steam Deck Dock. In this blog post, we'll delve into why the Steam Deck Dock is a must-have accessory that will take your gaming adventures to the next level.
1- Enhanced Extensibility and Seamless :
Investing in a revolutionary gaming device, like the Valve Steam Deck, opens up a world of possibilities. However, to truly unlock its full potential, you need the right Steam Deck accessories. The Steam Deck Dock is designed to provide enhanced extensibility, allowing you to seamlessly connect your Valve Steam Deck to monitors, controllers, keyboards, and more, transforming your gaming experience from handheld to an immersive, virtual gaming adventure. Whether you're looking to play on the big screen or expand your control options, the Syntech Docking Station provides the perfect solution for maximizing the Steam Deck Game experience.
2- How it Enhances Performance and Functionality:
A Steam Deck Dock is a game-changer that takes your gaming to new heights. Designed to provide not only seamless streaming but also an extra boost of power, this innovative Steam accessory enhances the performance and functionality of your beloved Steam Deck. Say goodbye to lag, choppy graphics, and limited multitasking—get ready for smooth gameplay, jaw-dropping high-resolution graphics, and effortless multitasking like never before. Whether you're exploring richly detailed open worlds or engaging in fast-paced competitive matches, the Steam Deck Dock ensures you won't miss a single detail. Our Dock ensures the enjoyment of your gaming sessions to the fullest, with its advanced hardware and optimization features.
3- Easily Switch Between Modes:
The Docking Station offers a smooth transition between Steam Deck handheld and docked modes. You can easily switch between playing on the go and playing on the big screen without any hassle. This versatility gives you the freedom to adapt your gaming experience to your preferences and specific situation. Whether you prefer the convenience of handheld gaming or the immersive experience of playing on a larger screen, the Steam Deck Dock has you covered.
4- Get Expanded Storage Space:
If you buy Steam Deck Dock it will not only enhance your gaming experience, it will also expand your storage options. With additional USB ports and storage expansion capabilities, you can easily connect external hard drives or USB flash drives to store and access more games, mods, and content. No longer will you have to worry about running out of space for your gaming library, ensuring that you can carry your entire collection with you wherever you go. Whether you're traveling somewhere or simply visiting a friend's house, you'll have access to your favorite games and additional content at your fingertips.
5- Enjoy Multiplayer:
Gaming is more enjoyable with friends, and the Steam Deck Dock makes multiplayer gaming a breeze. Connect your Steam Deck handheld to the dock, and you'll have the ability to play local multiplayer games with ease. Immerse yourselves in cooperative missions, engage in thrilling head-to-head battles, or embark on epic quests as a team. Gather your friends, connect additional controllers, and enjoy endless hours of multiplayer fun, whether you're at home or on the go.
6- Enhanced Cooling and Heat Dissipation:
Intense gaming sessions can push the limits of any device's cooling system. Thankfully, the Steam Deck Dock addresses this concern with its innovative design that incorporates enhanced cooling and heat dissipation mechanisms. The dock's clever engineering ensures efficient airflow, helping to keep your Steam Deck at optimal temperatures, even during extended gaming sessions. You can enjoy nonstop gaming sessions without worrying about your device overheating.
7- Experience Swift Download Speed:
Valve Steam Deck offers two types of wireless networking: 2.4GHz and 5GHz. These support Wi-Fi 5, which can provide speeds between 433 and 6,933 Mbits per second, although, in reality, it's usually not that fast. But here's where the Steam Deck dock comes in! The Docking Station has something called Gigabit Ethernet, which offers a data rate of 1,000 Mbits per second. It usually reaches a maximum speed of around 900 Mbits per second. While this may seem slower than Wi-Fi 5, Ethernet provides a more consistent and reliable connection. When you dock your deck, you can enjoy a much faster and more stable internet connection. it's perfect for downloading games and any other content.
8- Tangle-Free Gaming Setup:
The Dock not only enhances your gaming experience but also brings a sense of organization and tidiness to your gaming setup. By providing a central hub for connecting your gadgets and managing cables, the dock helps maintain a clutter-free gaming environment. The Syntech Steam Deck Dock, with its round base, also provides enhanced stability along with a seamless cable plugging experience. Say goodbye to wobbly setups and tangled cables—this dock ensures a sturdy foundation while maintaining a sleek and visually cohesive aesthetic that perfectly complements the Steam Deck. Impress fellow gamers with a setup that not only performs flawlessly but also looks aesthetic. With a Docking Station, everything is conveniently accessible and neatly arranged, allowing you to focus on what matters most: the game itself.
In Conclusion:
If you're a gaming enthusiast and a proud owner of a Steam Deck, then the Dock is a must-have accessory for a finer gaming experience. With seamless connectivity, enhanced gameplay experience, expanded storage options, multiplayer capabilities, better download speed and an untangled setup; the Steam Deck Dock offers an unbeatable gaming adventure. 
So, what are you waiting for? Upgrade your gaming experience today and make the most out of your Steam Deck with our docking station.