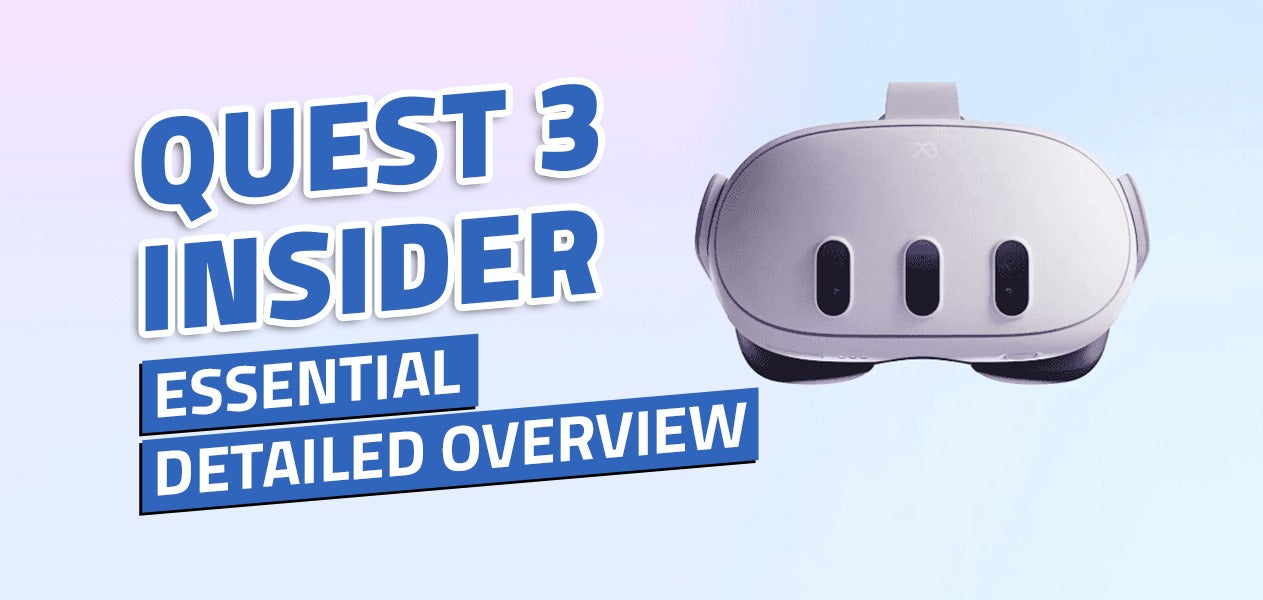 Everything You Need to Know About Quest 3
Quest 2 came to us at the end of the year 2020 and it had us in awe. We finally received a virtual reality experience that didn't require us to hook the headset to a computer. At present, Quest products have an awe-inspiring collection of games. You can play them on any one of the Quest products. 
The last Quest product, Quest 2 inspired the Meta Quest accessory line. If you hop online, you'll find a huge range of Meta accessories. One can only imagine the high hopes the VR fraternity has for Quest 3. 
Thanks to Zuckerberg, we've got a good glimpse at what is coming in Quest 3.  While we wait for Meta Quest 3 sales to start, let's talk about everything we've learned so far about Quest 3.
When are we getting Quest 3? 
The release is expected in the fall of this year, September 27 to be exact. Some feel that we won't see Quest 3 in the market till November 2023 aka the holiday season. The gifting season is bound to boost the sales of the Quest 3 headset. 
The Quest 3 is going to retail at a price that's a $100 increase over Quest 2. When we go through the features, you'll see that the price hike might just be worth it. Let's also not forget that VR manufacturing materials have gotten expensive over the years. 
What is New in the Quest 3 Headset? 
Here's all that we could glean from the very brief video that Zuckerberg posted. Other information is from Quest sources and so may not be wholly accurate. 
Design of the Quest 3: A Dream or What? 
We are finally going to get a lighter headset in the form of Quest 3. The yet-to-be-released headset is going to be 40% narrower than the Quest 2 headset. We can also see a different head strap configuration that appears flexible. This could mean a different design to use Quest 3 battery packs that have previously been strapped in a certain way. We believe that the need for a battery pack with Quest 3 is predictable considering the processor and functions. 
 Another element about the headset that has fascinated the audience is the presence of tracking cameras on the front. The pill-shaped camera appearance could open up a whole different kind of Quest 3 accessory arena.
What about the Lenses of Meta's Quest 3?
Gone will be the days when everyone feared for the life of their Quest 2 display because of the Fresnel lens. Quest 3 will have pancake lens and that means no more sun damage to your display. Another great thing about using the pancake lens is the decrease in the size and a resultant better distribution of weight Quest 3 headset.
Yet another thing that is attracting quite a lot of attention is the separate dial for setting the IPD. Quest 3 appeared to have a mesh surrounding the lens and that will help in IPD manipulation. Quest 2 only allowed us to slide the lens to preset locations. It will be great to see more people having fun with the correct IPD settings.  
Meta has taken another step to improve the isolation of lenses and that's in the form of a face shield around the headset. No light will be able to pass into the display.
Display Features in the Upcoming Meta Quest 3
Quest 2 had us viewing the virtual reality on a single LCD and the same will remain the case for Quest 3. However, we will see an increase in the pixels per eye. From 1832 x 1920 per eye to 2064 x 2208 per eye, we will have a better view of the virtual world. The refresh rate for the display could be anywhere from 120 Hz to 144 Hz. Quest 2's GPU and CPU still tend to get boosts and Quest 3 has already been hailed as something that will have double the power of Quest 2. 
The Wait for a Good Passthrough Experience is Finally Over with Quest 3! 
One of the best things announced in the Quest 3 video was the high-fidelity color Passthrough. Consequently, you and I can both play games that can integrate our surroundings into the game. PSVR2 has Passthrough too but it lacks the color that will be available in Quest 3. With the addition of tracking cameras, this augmented reality will be sharper than the one we have in Quest 2. The Passthrough experience will be a result of machine learning on Quest 3's part with awareness of the space. 
Quest Pro Haptics are Now in Quest 3 Controllers
Remember the time when Quest Pro users used to have better haptics than Quest 2 users? Those days are over with Quest 3's controllers. These controllers are a better-designed version of the Quest Pro Touch Plus controllers. We are getting TruTouch haptics with Quest 3 controllers.
Processing Power & Other Related Functions in Quest 3
Quest 3 headset is going to have Qualcomm Snapdragon XR2 Gen 2. This is a step up from the Snapdragon XR2 that the Quest 2 had. Quest 3 is rumored to have Adreno 730 GPU with a whopping 2.4 teraflops of power. We can hope to see a huge increase in the graphic capabilities of this headset. To further empower the Quest 3, the RAM may or may not be 6 GB. Quest 3 is going to be made available in 128 GB but we might see 256 GB and 512 GB options in the future. 
What is Missing in the Quest 3?
They should have also added eye and facial tracking. Can you imagine the result of such features? We will save so much of the Quest 3 battery by reducing the power requirement from GPU. This is going to be an opportunity for the VR accessory manufacturers since the Meta Quest 3 battery will drain pretty quickly. Muck like the Meta Quest 2 battery packs, we will see a whole range of Meta Quest 3 battery packs.
To Buy or Not to Buy Meta's Quest 3?
Apple's AR/VR headset is going to be announced pretty soon and everyone else is pushing out their new VR products to get in this race. Quest 3 announcement came a week before the Apple event that could be about their headset. Many other companies have also announced their VR headsets in recent periods. We have PSVR2, Quest 3, Lenovo, and Magic Leap all gunning for the top position. 
Out of all the headsets, Quest 3 stands out because of its features and pocket-friendly price. Let's face it, a lot of us are going to be using Quest's game library to play in VR. The additional features are going to be a boon for the Quest 2 users who've wanted to upgrade. 
The higher processing power, better design, Passthrough, and haptic controllers make Quest 3 a very attractive headset. Let's not forget that there will be new Meta Quest 3 accessories to look forward to as well. It's best to keep a wait-and-watch policy with the upcoming Quest 3 if you're a part of the skeptical VR group. Quest 3 might just surprise us all! 
If you want to stick to your Quest 2, no one's going to judge you because you might already have it all with Quest 2. Although, if you're in search of a Quest 2 accessory, our website just might be the place for you!