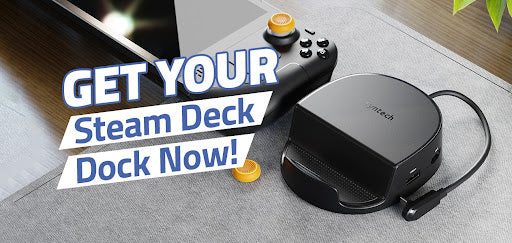 5 Reasons to Buy a Steam Deck Dock
If there's one thing that has kept us enamored with gaming in the past few years, it's Steam Deck. The mobility that comes with using Steam Deck has been enough to bring back old players to screens. Steam Deck by Valve is loved by people of all ages around the globe. With Steam Deck's release and the subsequent updates, Steam Deck owners have played games made for Windows, Xbox, and Nintendo on the Steam Deck handheld.
With the release of the docking station by Valve for Steam Deck, we finally got something to get even more out of our Steam Deck devices. Not to forget, a lot of us had already started using USB hubs and other docking devices to connect the Steam Deck to various add-ons. With the official dock's release, we saw so many other docking stations for Steam Deck that we were pleasantly surprised. Syntech's docking station for Steam Deck has all the amazing features of the original docking station and more. You can check it out here.
Let's check out all the reasons why you should be buying a docking station for your Steam Deck. 
Reasons You Need to Buy a Steam Deck Dock ASAP! 
Bigger Screens Here We Come! 
The best thing to come out of the docking station was access to bigger screens for the Steam Deck. Don't get us wrong, we love the 7-inch screen of Valve's Steam Deck. But at times you do get tired of squinting at the small screen. Sometimes you just need to play your game on the big screen. 
Remember the good ole days when we'd all sit in front of our PC and play the whole day? Or when we would use PlayStation and play games on our TV screens? 
A docking station will help you feel that joy again. What's more, you can use this setup to sit and play with your friends and family. There are endless possibilities. Movies, games, or work, it's up to you! Just make sure that your TV screen can work with HDMI 2.0. You get to see your Valve Steam Deck in full HD or even 4K, what's not to like about a docked Steam Deck?
Gaming Controllers and More 
Another thing that we find great about docking stations is that they allow us to attach extra controllers to the Steam Deck. So going back, we have a huge screen to view and the ability to connect multiple gaming controllers to Valve Steam Deck just because of a docking station? Count us in! 
Another thing that you can do with the addition of a dock in your Steam accessories is use a keyboard and mouse for your gaming arsenal. We are not implying that the Valve Steam Deck is weak in any way, we are only acknowledging the need for mouse and keyboards for PC gaming. 
Everyone is emulating to play all kinds of games and sometimes the Steam Deck handheld doesn't have the best controls for these games. In such cases, use a dock and connect to your favorite gaming controllers, mouse, keyboards, and more accessories to get your fill of the game. 
Office Time is Just Around the Corner 
One of the biggest and probably the most non-fun use of a docking station is for the creation of a small office space. Yes, you read the right. Valve Steam Deck can easily convert into a PC that you can use to make your office spreadsheets, budgets, and taxes. You can use emulation to make the PC a Windows-based device or run it in its Linux-based glory. 
We admit that you can also do all this office work while the Steam Deck is not docked, but do you want to ruin your eyesight like that? Plus, let's not forget that you can connect your mouse and keyboard along with a large screen via a docking station. 
So, if you are someone on the fence about buying a Steam Deck for regular office work, well the Steam Deck accessories are your best friend.  
Faster Downloads & Expanded Storage
The docking stations for Steam Deck come with a port for Gigabit Ethernet. This connection translates to 1000 Mbits of data download per second. This is the fastest that the downloads take place thanks to the direct link of the internet to the Steam Deck. 
When you consider the download speed that comes with the Steam Deck, the Deck promises us a download speed of somewhere between 433 Mbits per second to 6933 Mbits per second. However, if we are going to download anything, we don't get such fast downloads. Hence the direct connection to the internet is something that we love about docking stations. 
You can do another thing to increase the capabilities of your Steam Deck. With the use of a docking station, you can expand the storage of your Steam Deck. In this external storage device, you can save up your heavy-duty games and play to your heart's content without slowing down your Steam Deck.  
Charge as You Play
Once you buy a Steam Deck, you too would want to keep the new Steam Deck running for as long as possible.  Steam Deck's battery life is really good, don't get us wrong, but we all want to keep the Steam Deck game running till it is over. Many of us keep the deck on sleep mode while it's charging. 
But if there was a convenient way to play Steam Deck games while the handheld charged, we'd run to it. A good docking station will help keep your docking station charged as you tread along the valleys in your favorite Steam Deck game. You can easily connect your Steam Deck to multiple accessories and still maintain good charging of your Steam Deck, all because of a docking station.  
Get one of these docking stations for your Steam Deck ASAP!  
Looking for a Docking Station for Your Steam Deck Yet? 
To summarize, here's why you should get a docking station for your Steam Deck: 
Access to Full HD gaming 
Connection to multiple types of peripherals 
Continuous charging during playtime
Easy conversion into a functional PC
Fast internet downloads and access to more storage space for games
If you feel like the above-mentioned reasons are worth your time and money, get yourself a docking station for your Steam Deck handheld device. The official Valve Steam Deck docking station might be overpriced, but the third-party docking stations aren't. You can get a really good docking station for less from us too! 
Syntech's Docking Station for Steam Deck comes with 6 multifunctional ports that include 3 USB 3.0 ports, 1 USB C port, 1 Gigabit Ethernet port, and 1 HDMI 2.0 port. You get everything for half the price of Valve's Docking station for Steam Deck! Check out our product here.