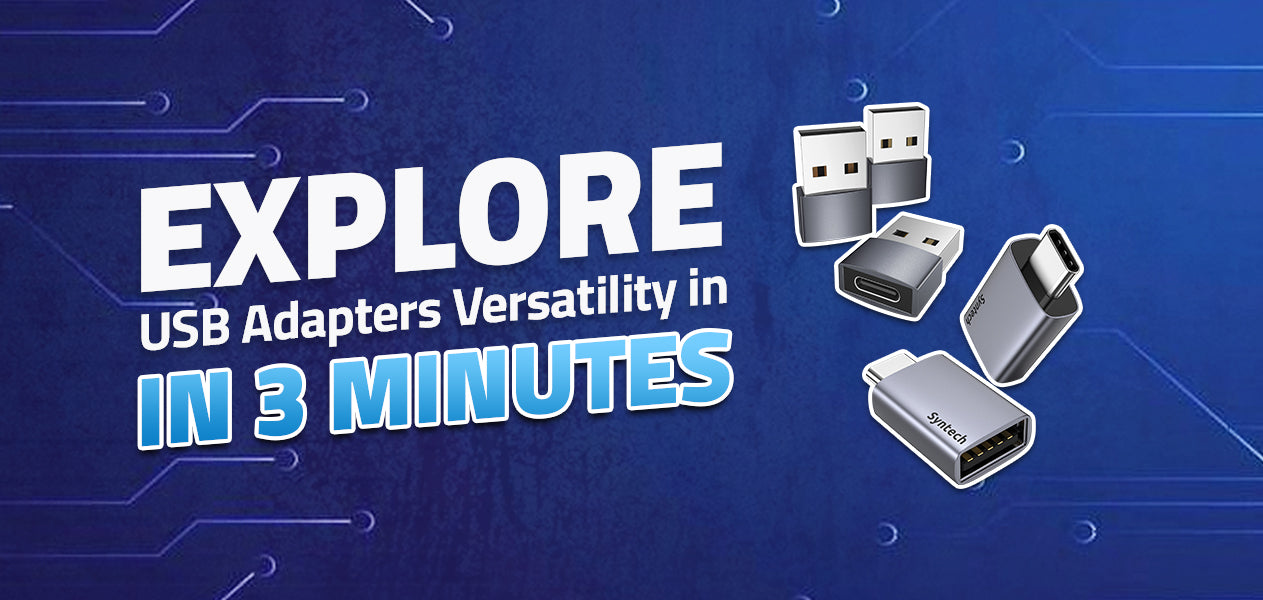 What Makes the USB-C to USB Adapters Versatile?
Have you seen what the new devices are using to connect?  It's a USB C! 
If you are like everyone else, you have some good devices that use USB A ports, and that leaves you in a sticky spot. You need to have a USB C adapter to use devices with USB A. You can alternatively get a USB Type C hub to get more connections out of a single port.
What you need to have is a USB C to USB adapter to make sure that you don't have to face any kind of connectivity issue. We recommend every PC and laptop user get a hold of all the different types of USB C to USB 3.0 adapters and USB C hubs. These USB C adapters and hubs are helpful in your day-to-day use in several ways and we have rounded up most of them here in this following list! 
7 Abilities of Your USB C to USB Adapters to Look Out For!
1. Connect your Devices
As we said before, you've got to have some devices with USB A that you cannot just let go of because newer alternatives are available. Legacy devices can run thanks to USB C to USB adapter. With newer systems, you can run your old devices, including mouse, keyboards, and other devices. The USB C adapters also allow you to use these devices without the need for any special cables and converters. A good USB hub with multiple USB A connections would even allow you to work with all of the devices at the same time.
2. Charge Your Devices 
A common occurrence nowadays is that of USB C chargers. You will find that most of the new smartphones and laptops use charging ports that have USB C. It is however easy to bypass this issue by simply using USB hub 3.0. With a USB C adapter, you can charge your USB A devices via your laptop or wall charger. With a USB C to USB adapter in use, your life can get easy when it comes to charging your devices. However, make sure that you use an adapter that allows the power pass-through. 
3. Data Transfer at Faster Speeds
We can all appreciate a fast data transfer moment. With the USB C to USB hub that contains multiple USB 3.0 ports, you can get data transfer speeds of up to 5Gbps. You can use this fast data transfer ability to use in so many instances. If you're using a 2 ports USB hub or multi-USB connector, you can simply use an external storage device to watch your movies and play your games. Fast data transfers are particularly useful when you need to back up large files or transfer data from an older device to a new one.
4. Multiple Connections at the Same Time
If by chance you start using a USB splitter with your USB C adapter, you will be able to get even more use out of your adapter. With a USB hub for MacBook Air, you will discover that you can connect multiple devices all at once. All of these devices can provide you with different functionality but thanks to the presence of a hub, your single connection will perform in multiple manners.  
5. Create a Mini Office Space or Gaming Zone with a USB Hub
What you can achieve with your Thunderbolt USB hub is a connection to multiple devices that have USB A ports. With the Thunderbolt connections, you can easily connect your PC or laptop to a mouse and keyboard to work on anything your heart pleases. 
Or you can create a mini gaming zone where you and your friends can connect your USB A supporting gaming controller's wires or wireless dongles to USB C adapters. Alternatively, you can also use the Thunderbolt 2 hub to support multiple controllers. 
6. Ability to Connect to Displays
This might be a little complicated but you can easily connect large screens to your devices with the help of a USB C to USB adapter. All you need is a PC or laptop that has a USB C port that supports HDMI and DisplayPort output. You can simply connect your USB C to USB adapter to the USB C port on one end while your HDMI to USB adapter can connect to the other. This will ensure that your device gets the external display that it desired. A multi-USB adapter is another way to connect your USB A device with a display, the multiple ports are available in a variety. You can simply use a USB C hub that contains an HDMI port.
7. Audio Access with USB C Adapter
Another product that has gained USB A connection over the years is your set of gaming headphones and headphones, in general. Whether you go for wireless or wired headphones, you will need to connect with the USB A port. In these circumstances, for the newer devices, you will need to use a USB C to USB adapter. Alternatively, you can go for a USB splitter cable and it will provide you the option to connect your USB A headphones to your USB C-containing PC or laptop. 
Are You Getting Your USB C to USB Adapter Now?
We say this is the perfect time to make the switch if you haven't already. You don't need to sacrifice your good old devices. You don't need to throw away your legacy devices either. Use a USB C to USB adapter and you are good to go. The ability of the USB C to USB adapter to provide extra connections, charging, and fast data transfers makes them a favorite amongst professionals. We hope that you don't miss out on this deal either!