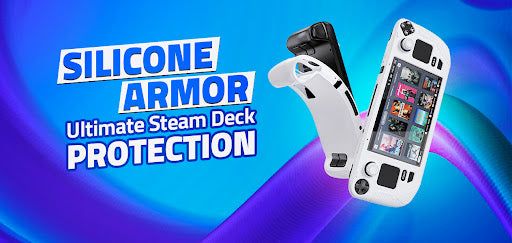 Steam Deck Accessory: Why is Silicone the Best Material for Protective Cases
 So you have your Steam Deck in your hands, what do you do next? You accessorize your Steam Deck with the best accessories out there. You get the docking station and battery pack to support you during different games. But what about protective cases for Steam Deck? 
Your Steam Deck needs the best protective cases out there for optimal safety. Trust us when we say that a hard case cover and a
Steam Deck protective
cover are necessities. You don't want your Steam Deck getting damaged in any way. A good protective case is going to save you from a lot of trouble. 
Steam Deck Protective Cases Out There in the Market 
Steam Deck cases are pretty popular amongst gamers not only because they provide safety but also because of the style they add to their aesthetics. If we talk about Steam Deck carrying cases, they are all made pretty similar to the first case that came into the market. However, some manufacturers like Syntech have added their own twist to the hard case cover and made it a stylish protective box that anyone would be happy to carry around. 
The following materials are pretty popular in the community for Steam Deck protective cases:
Thermoplastic Urethane (TPU Material) 
The only way you haven't heard of TPU material yet is if you haven't started properly searching for a Steam Deck protective case yet. This material is practically present in almost all protective cases. We don't say that it is the best, rather it is cheaper on the pocket. The material has all the qualities that you'll need in your seasonal protective cases. 
Flexibility and Shock Absorbance
Like any sensible device owner out there, you'd want a case that can save your Steam Deck from a fall. In fact, all the best protective cases are shock absorbent and this characteristic comes from the inherent flexibility of TPU material.
Colors and Affordability
Your TPU material-made case is going to be in any color that your heart desires. Another advantage of using this material, it is super affordable! Silicone is a naturally occurring material whereas TPU material is a synthetic material that can easily be made in bulk.
However, on the other end of the spectrum, TPU material is not going to last long for the user. The user will also find that their Steam Deck is not safe from moisture either. 
Polycarbonate in Combination with TPU Material
Polycarbonate is a rigid material that is great for your Steam Deck cover as long as it is used in combination with TPU material. The polycarbonate material adds the following qualities to the Steam Deck grip case. 
Lightweight
Everyone wants a light case. Let's be honest, Steam Deck can be heavy and bulky to hold. This winning combination of materials works out for everyone who owns a combination case. 
Scratch-Resistant
This material is impervious to wear and tear. You can use a protective case made from this material for a long time. Additionally, this characteristic is great for people who want their Steam Deck cases to keep on looking good.
However, while we are loving this combination in many cases out in the market right now, here's why we would rather avoid these cases: 
The material is not shock-absorbent at all! Your Steam Deck protective case will be unable to save your Deck from a pesky fall.
The hard case cover itself will break on impact. Let's forget about the Deck for a second and focus on your cover. One fall and this brittle material will break like anything!
Silicone Steam Deck Covers are the Future! 
Silicone covers are in and there are a lot of reasons for this silicone Steam Deck cover case takeover. Though the material is pretty soft, it is more than capable of absorbing the impact of everything you throw at silicone. 
The Flexibility of the Material 
Silicone is quite flexible and that makes it a good material for absorbing the forces that are acting upon it. This particular ability of the silicone material is great in case of impacts and adds protection to the Steam Deck grip case.
Durability 
The material is resistant to the regular wear and tear that impacts the device's case. The durability of silicone helps it withstand all kinds of damage to the surface. Your Steam Deck's body will remain scratch-free.
Heat-Resistance
This material is famous for its ability to withstand high temperatures. You will find silicone-made baking trays and heat-protective equipment all around you. However, this ability can turn back on you in the case of Steam Deck. An ill-designed Steam Deck case can obstruct your Steam Deck's air vents and this can eventually result in thermal throttling. A well-designed protective case like the Syntech protective case with proper air ventilation, on the other hand, can help keep the heat levels in the range.     
Non-Toxic
This is an important feature of the silicone material. You and your loved ones are completely safe when they use this material. Why is it good for a protective case? Well if you have kids and pets in your house, they're bound to touch, chew, or use your things. A non-toxic silicone material-made case will not harm them in any way. 
As we said above, this durable and flexible material is resistant to impact as well as wear and tear. Whatever life throws at your Steam Deck, this protective case will keep Steam Deck safe. 
 Syntech's Steam Deck Protective Case is here for Your Deck 
If you aren't looking for a hard case cover (in this case, the Steam Deck carrying case by Syntech is your bestie!), you should have a look at the Syntech Protective Case for Steam Deck. This protective case is made from silicone material. It will easily keep your Steam Deck safe from all the environmental threats as we've just mentioned. 
Don't worry, Syntech recognizes the user's need for more colors in silicone protective cases and hence has a case in black, grey, white, and blue color. Our blue protective case for Steam Deck is a sight for sore eyes. You can check it out over here.