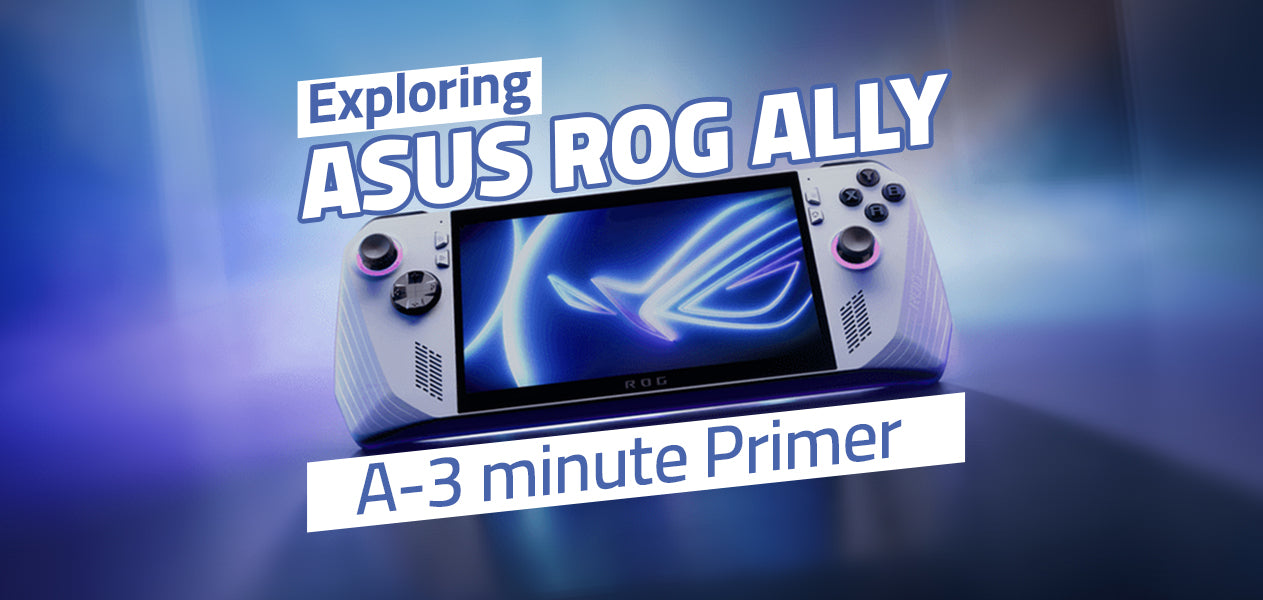 Feel the Hype: ASUS Rog Ally Steals the Spotlight!
If you have been holding out for a Windows-based gaming handheld, here's news for you, ASUS Rog Ally is finally here! From what we've been able to see for ourselves, the handheld gaming device is everything that most gamers have hoped for. 
The Rog Ally gaming handheld is more than capable of running multiple types of games made for Windows and Xbox. Unsurprisingly it can also play different Steam games. Already we can see that the ASUS gaming handheld will have a larger crowd hoping to get their hands on it. Steam games are not everyone's cup of tea and Steam Deck requires modifications to run anything but its games. 
Here's What We Know About ASUS Rog Ally So Far!
Processing Power Behind this Window-Based Marvel! 
Rog Ally contains an AMD Ryzen Z1 Extreme chip that has been hailed so far as one of the best gaming chips for handheld gaming devices. The chipset is similar to 7040U made for laptops and this alone tells you that the chip packs a punch. We are super happy with this addition to the handheld gaming console because this means better gaming power in the device. The device has 16GB RAM and 512GB in memory with room for an SD card.
Surprisingly, this gaming console performs best at 720p resolution with frame rates reaching 50 to 70 fps. At its native 1080p resolution, sadly the handheld console tanks and you cannot get a good game out of it. This performance from such a powerful APU is astonishing.  
What's the Display of the New ASUS Rog Ally?
Here's what we get with this gaming handheld device: 
7-inch glossy display with Gorilla Glass
A 1920 x 1080 FHD resolution
500 nits of brightness 
A sensitive touchscreen
A refresh rate of 120Hz and a response time of 7ms. 
What we can say for sure is that the display and the view are phenomenal. When we say the view is amazing, we are simply pointing out how amazing everything looks and the details in the games are all visible in vivid colors. If we were to go by display alone, this device is yards ahead of Steam Deck.  However, let's not forget that this is all only available if you are willing to tolerate a low battery time of about 1 hour and 20 minutes.  
ASUS Rog Ally Battery Time and How to Increase it!
Any portable game console is as good as its battery time. Don't get us wrong, this handheld console has a battery time that only improves when you lower your game quality by lowering watts by decreasing major settings. However, even with the lowered graphic and processing requirements, this handheld video game device doesn't have a battery time as good as Steam Deck's 7-hour one.
What you can do to improve its battery time is simply to decrease the graphic requirements. You might have to run games in 2D but you'll get the battery time you want. Another way of making the battery life better is by simply reducing the brightness of the display. There just might be a huge surge in chargers and battery packs for ASUS Rog Ally.
Design Features of Rog Ally Gaming Handheld
From the time of the PlayStation handheld device, we have seen different versions of the same design. The newest gaming toy in town looks pretty similar to Steam Deck. However, one thing that we appreciate is the white color of the ASUS Rog Ally and the amazing contrast they present to the 4 face buttons, shoulder buttons, 2 analog sticks, and a D-pad.
The front vents frame the display of the handheld. There are many other air vents placed at the bottom of the device and on the back of the device. This is especially great because, in the game runs, it has been observed that the device heats up to 115 degrees. The air vents stay out of the way and keep the device cool for your use. The two cooling fans inside silently keep the game running smoothly. 
There are also interface buttons to help properly traverse the display of the Rog Ally.  A seasoned gamer will feel that they are coming back home to an old handheld gaming console just because of the whole layout of buttons and analog sticks.
The device weighs about as much as Steam Deck and side by side comparison shows that ASUS Rog Ally is smaller than Steam Deck. You get multiple ports as well including a miniSD card reader, USB-C port, headphone jack, and a PCIe port. 
ASUS Rog Ally Software and Games to Look For!
The fact that ASUS Rog Ally is a Windows 11-supporting handheld console, is a huge plus point. This helps the user install anything that is Windows compatible onto the Rog Ally. 
If you are wondering where you might be able to find all your Windows-compatible games, well fear not. ASUS has its Armoury Crate application ready to help you out. It will help you keep your games organized regardless of the type of launchers that the particular game needs. In this gaming category, you will be able to play games from Steam, EA Origin, Xbox Game Pass, Ubisoft Connect, and many others. It is also worth remembering that you get 3 months' worth of free Xbox Game Pass with a new ASUS Rog Ally. 
Are You Going to Buy this Handheld Gaming Console?
To be honest, ASUS made us picture the Rog Ally as the best handheld game console that we'll get in current times. We have been pretty excited about Ally. Here's what we love: 
Amazing design with full consideration of gamer's comfort.
A display to die for!
Windows compatibility with room for other launchers to work as well.
But is it the best handheld console out there in the market at the moment? 
Probably not. 
Steam Deck holds the top position because it performs as well as they said. Valve didn't misguide us. ASUS on the other hand has said many things about Ally's performance and yet we didn't see Ally perform well on 1080p. ASUS Rog Ally will no doubt reach its full potential in the coming months and we cannot wait to see that happen! 
Till then, we just might wait while playing on our Steam Deck. If you're also sticking to your Steam Deck for now, don't forget to explore our website for Steam Deck accessories!