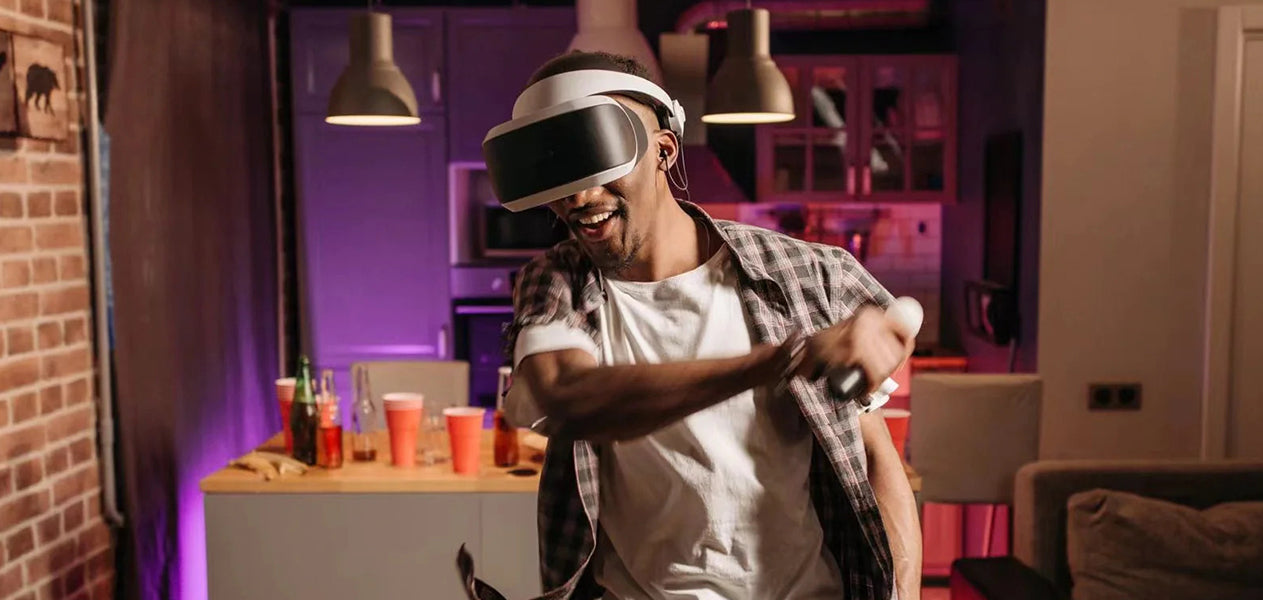 What is VR Gaming?
"VR gaming" refers to the new breed of video games that use VR technology to provide gamers a wholly immersive 1st view of the game play. Through a range of essential VR gaming equipment, such as sensor-equipped gloves, hand controllers, VR headsets. Users can control and fully engage themselves in various interactive experiences.
With standalone systems, cutting-edge laptops, or specialized consoles and PCs outfitted with top VR headgear like the Oculus Rift, VR gaming can be performed.
Types of Different VR Games:
Although there are different catalogues of virtual reality games, most fall under the classifications of simulator games or limited VR experiences.
Here are some prevalent VR game genres available:
Action——By involving all the sensations in an exhilarating encounter, VR can elevate the excitement to different level. Players can literally take on the roles of the hero or, in some cases, the antagonist in an incredible journey narrative by fully engaging with their bodies.
Which gamers felt they are in the game, on the ice, finishing a marathon, or even ascending a mountain, will astound them. Users are engaged in their chosen sport through VR. Want to play mini golf in bizarre settings with your buddies at Cloud lands Minigolf? VR zsports games allow for various virtual scenarios.
Story/RPG——Players are offered the ability to interact in the game as they see fit while being immersed in a bizarre story. They can grab the world by the horns and run with it in the VR realm since none of those annoying real-world consequences of the choices apply there. It also features floating islands, magical objects to loot, and a horde of orcs.
Recommendation of Prevalent VR Games
Tumble VR: innovative puzzle game involving block stacking.
PlayStation VR Worlds: This selection of VR mini games showcases with themes ranging from mafia to racing.
Drive club VR: A sleek racing game that places users in the driver's seat of 80 engines.
Future Trends of VR Games:
The video game industry's pandemic-driven expenditure appears to trickle down to the VR platforms, indicating a potential uptick in the gaming sector.
However, a VR game's field of view is smaller than a gamer's actual field of vision. Besides, VR technology raises some safety concerns. Players might potentially risk falling, stumbling, or even hurting other people if they move around in the real world while viewing a virtual environment.
Thus, VR game designers are still trying to make a perfect virtual environment that perfectly recognizes where the gamer is in the world, adjusts in perfect real-time when the users turn their head, and correctly orient direction.