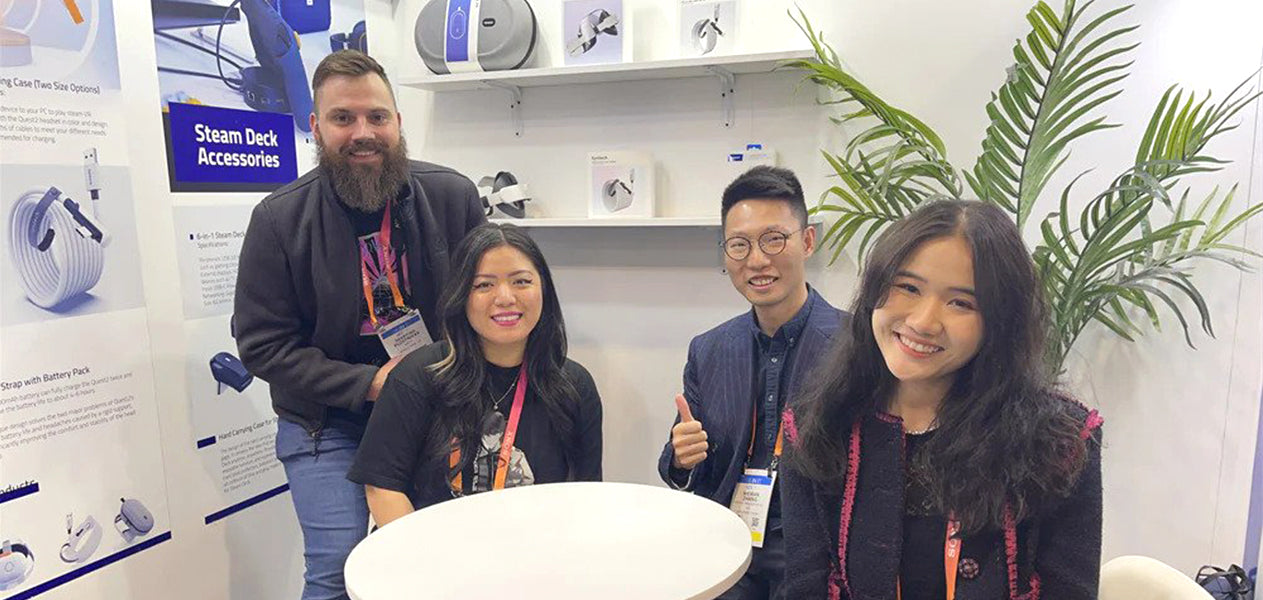 Syntech Unveils Consumer-Focused Expansion Plans for 2023
SHENZHEN, China, Jan. 23, 2023 /PRNewswire/ -- Syntech, a leading brand of electronic accessories market, showcased its latest offerings and announced its global expansion plans at the CES 2023, drawing strong attention from consumers, collaborators, and media. The company's focus on user experience, aesthetic design, and environmental sustainability set the stage for the introduction of a new era of accessories.
Professional VR user Jasmine with Syntech founders Edward and Armi
The highlights of the Syntech booth at CES was their gaming series, which received excited feedback from visitors. The VR Head Strap with Battery Pack and Steam Deck Multifunctional Docking Station were particularly popular, with global visitors expressing interest and engaging with the brand's founder to discuss the needs of gamers and their hopes for future gaming products.
In 2023, Syntech will keep expanding its focus to the interactive entertainment and office sectors. The upcoming spring new products conference will feature a camera and microphone with structural innovations and LED lighting effects. The camera is designed to provide better design and quality options for customers in the remote office market, while the microphone is tailored to meet the needs of new live gaming scenarios and business environments. This entry into the interactive entertainment and office space by Syntech will bring a new consumer experience.
As the company expands into new markets, Syntech is dedicated to providing the best possible global consumer experience. The company places a strong emphasis on the consumer experience and is committed to continuously improving it. Syntech will be expanding into Europe, the Middle East, and East Asia in 2023, enabling consumers around the world to experience Syntech's superior product design and process aesthetics. "We understand that to meet the needs of our customers, it is important to not only improve product design but also enhance the overall user experience. We are constantly seeking feedback from our global customers and using it to inform our product development," said Edward (Weiran), founder of Syntech.
For more information about Syntech and its revolutionary new products, please visit https://syntechhome.com/
About Syntech
Syntech is a leading brand of electronic accessories, with a focus on innovative design and exceptional performance. Established in 2017 and headquartered in the technology hub of Shenzhen, the company's mission is to enhance the user experience of digital content through its products. Syntech has a rapidly expanding presence in over 80 countries and is committed to becoming a globally recognized brand.
Media Contact:
Kingsley Cheng
+8613802212539
352362@email4pr.com
SOURCE Syntech