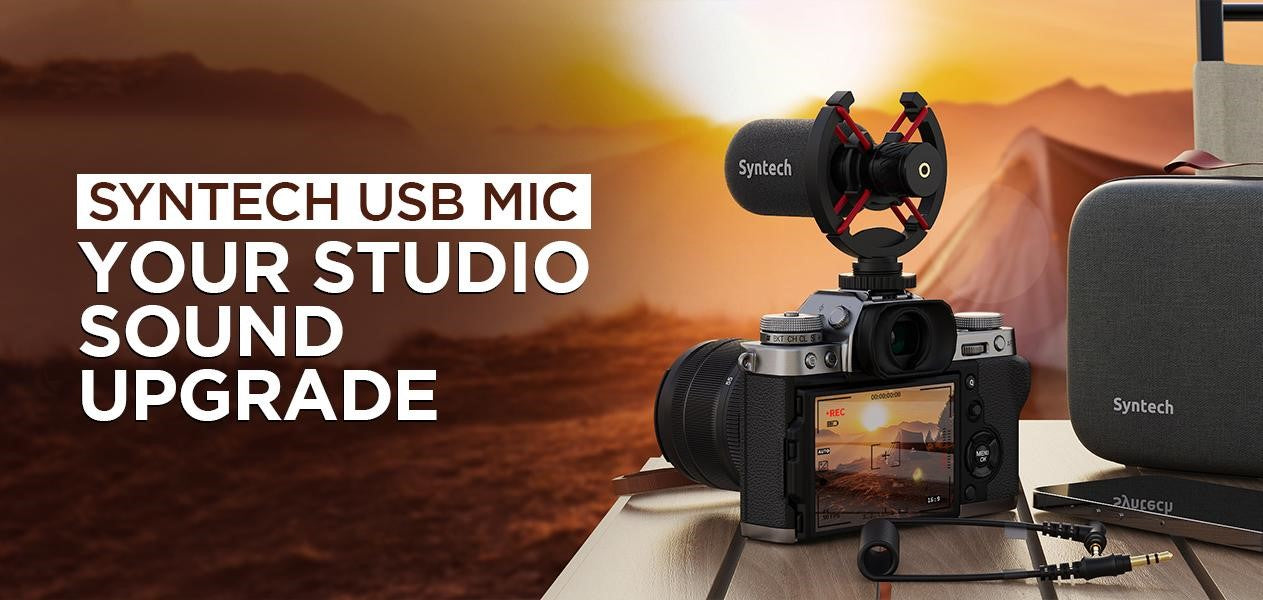 Unleash Studio-Quality Sound with the Syntech USB Microphone
You've put your heart and soul into creating something magical, whether it's a song, a podcast, a video, or any other piece of content. You've poured hours into perfecting your craft, and your message is incredible. But there's one crucial thing that can either make or break your creation: the sound quality. The Syntech USB microphone does a phenomenal job of fulfilling your audio needs for studio-quality sound.
Why is Studio-Quality Sound Important For Content Creators?
Here's why having studio-quality sound is a game-changer for creators:
Helps Them Give Good First Impressions That  Count
When people stumble upon your creation, they're going to judge it within the first few seconds. If the sound is fuzzy, distorted, or just plain wrong, they might not stick around to appreciate your genius. Great sound quality grabs attention and keeps people engaged.
Help You Portray Yourself As A Professionalist
Studio-quality sound screams professionalism. It shows that you care about your work and your audience. People are more likely to take you seriously when they hear that you've invested time and effort into perfecting the sound to provide high-quality content.
Target the Emotions of Listeners
Sound has a powerful emotional impact. The right music, clear voices, and crisp sound can enhance the mood and captivate your audience. It's like adding that secret ingredient to make your content unforgettable.
Define Your Own Brand
Consistency in sound quality can help you build a brand identity. When people hear your content and recognize the quality, they'll associate that excellence with your name or your brand.
Express Your Work 360 Degree
If you're an artist, musician, or content creator, your work is an extension of yourself. High-quality sound ensures that your artistic vision is fully realized and appreciated by your audience.
How To Achieve Studio-Quality Sound At Home?
Here are the key steps for achieving studio-quality sound at home:
1. Room Selection and Treatment
Choose a room with suitable acoustics.
Apply acoustic treatment, including diffusers and absorbers.
2. High-Quality Gear
Invest in quality studio monitors and headphones.
Get a good audio interface with high-grade preamps.
3. Microphones and Cables
Select the right microphones for your needs.

Select a USB microphone with noise cancellation.
Use high-quality cables to connect your equipment.
4. Digital Audio Workstation (DAW) and Mixing
Use professional-grade DAW software for recording and mixing.
Learn the art of mixing and mastering for balanced sound.
5. Monitoring Environment and Calibration
Set up your speakers correctly for optimal monitoring.
Consider room calibration software for precise adjustments.
These five key points will help you create studio-quality sound in your home setup effectively.
Attain Studio-Quality Sound With a Syntech USB Microphone
Our studio-quality microphone is phenomenal at sticking to your expectations by providing studio-quality audio notes.
Experience Enhanced Clarity and Noise Reduction
Our cardioid shotgun microphone is expertly crafted to capture pristine sound on the go, effortlessly minimizing background noise for top-tier audio quality. It's the ultimate companion for vlogging, YouTube content, live streaming, filmmaking, interviews, and more.
Compact and Mighty:
Our upgraded shock mount diminishes handling and vibration noise, while the universal clip guarantees compatibility with a wide range of mobile phone models, allowing you to unleash your creativity anytime, anywhere.
Universal Compatibility, No Hassle
This external camera microphone requires no batteries and seamlessly connects to most devices, featuring a 3.5mm audio jack. It's compatible with cell phones, DSLRs, camcorders, and more. (Please note: 3.5mm to Type-C/Lightning adapter is not included).
Designed for Creativity and Flexibility
Our sleek and compact video microphone is tailor-made for vlogging, YouTube videos, live streaming, filmmaking, interviews, and countless other creative pursuits. It empowers you to capture professional-grade audio on the move, igniting inspiration in every project.
What You Receive
The Syntech Directional Shotgun Mic, complete with a shock mount, 3.5mm TRS cable (for cameras, etc.), 3.5mm TRRS cable (for phones, etc.), wind muff, foam cover, carrying case, leather bag, user manual, and a hassle-free 18-month warranty. Plus, our friendly customer service is here to assist you every step of the way. Get ready for superior sound quality and effortless recording with Syntech.
Unlock the Best Studio-Quality Sound!
The Syntech USB Microphone is not just a recording tool, it's the bridge to studio-quality sound that every creator deserves. With its exceptional audio clarity, user-friendly design, and versatility, this microphone empowers you to bring your projects to life with precision and professionalism.
Whether you're a musician, podcaster, gamer, or content creator, the Syntech USB Microphone is your gateway to capturing and sharing your passion with the world. Elevate your audio game and unleash studio-quality sound like never before with this remarkable tool in your creative arsenal.