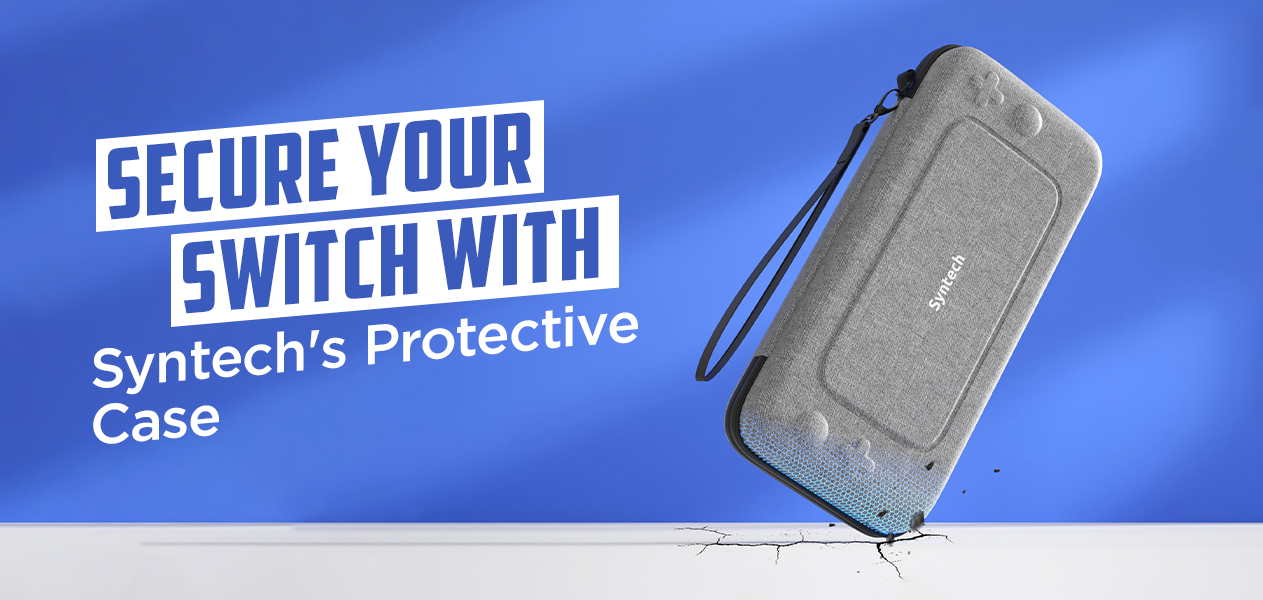 Secure Your Switch with Syntech's Protective Case
Listen up, gamers, because this is a crucial truth that can't be ignored: if you don't have a Syntech Switch Protective Case for your Nintendo Switch, you're playing with fire and not the cool, dragon-slaying kind. 
Picture this scenario: You're on a high-stakes mission, battling the toughest bosses, and your Switch slips from your grip. Without that protective cover, you're at the mercy of gravity, and the result is often a bruised and battered console. Not only does that hurt your gaming pride, but it can also mean game over for your device. 
But wait, there's more! Without a screen protector, your Switch's beautiful display is vulnerable to scratches and smudges that can haunt your gaming experience. You'd be stuck squinting at a less-than-pristine screen, and nobody wants that. 
Without a protective cover, your Switch becomes a dust magnet, and you'll be left wondering why your console isn't performing at its best. 
And for those intense gaming moments, a cover with an ergonomic design can be a lifesaver, offering you a better grip on your Switch and reducing the risk of accidental drops; the best Switch protective case is at your disposal. 
8 Reasons to Buy Syntech Switch Protective Case
The delicacy of the Nintendo Switch refers to its vulnerability to damage from various factors, such as accidental drops, scratches, and wear and tear over time. Many users use a protective cover or case to protect this valuable gaming device. Here are some reasons why a Syntech Switch protective case is essential:
● Portability
The Nintendo Switch's portability is one of its key features, but it also means it's more likely to be exposed to potential hazards during travel. A protective cover helps shield the device from impacts and minor accidents that can occur when carrying it around.
● Screen Protection
The Switch's built-in screen is susceptible to scratches, especially when docked or placed in a bag with other objects. A protective cover with a screen protector can prevent these scratches and keep the display in pristine condition.
●
Dust and Debris
Dust can accumulate on the device, potentially affecting its performance over time. A cover can help keep these particles out and maintain the cleanliness of the console.
● Customization
Many protective covers are available in various designs and colors, allowing users to personalize their Nintendo Switch and make it stand out. This customization adds a touch of style to the device.
● Additional Storage
Some protective covers come with additional pockets or compartments, providing extra storage space for accessories like game cartridges, headphones, or charging cables, making it more convenient for users to carry their gaming essentials.
● Improved Grip
Protective covers often feature textured surfaces or ergonomic designs that improve the grip on the device. This can reduce the chances of accidentally dropping the Switch during gameplay.
● Longevity
Adding an extra layer of protection, a cover can extend the lifespan of your Nintendo Switch, potentially saving you money on repairs or replacements in the long run.
● Resale Value
Keeping your Nintendo Switch in excellent condition with a protective cover can increase its resale value if you decide to upgrade to a newer model or sell it in the future. 
Don't Own the Switch Yet?
The Switch is a popular video game console developed by Nintendo. It was first released in March 2017 and has since gained a large following of gamers worldwide. The Switch is unique because it can be a popular gaming console with portability or a home gaming partner when you have no friends with you. 
Key features of the Nintendo Switch include:
● Versatility
The Nintendo Switch can be connected to a TV for a traditional gaming experience or used as a portable handheld device with its built-in screen. This allows players to switch between playing at home and on the go. You can get the Switch protective case with a carrying strap for more ease in traveling and carrying the device around.
● Joy-Con Controllers
The console comes with detachable controllers called Joy-Cons. These controllers can be used in various ways. They can be used as individual controllers for two-player gaming or attached to the console for a more traditional feel.
● Game Library
With a vast library of games, Nintendo Switch always wins hearts. The library is a collection of first-party titles like "The Legend of Zelda: Breath of the Wild" and "Super Mario Odyssey", as well as third-party games and indie titles.
●
Online Multiplayer
The Online Multiplayer allows access to online multiplayer features, save data backup, and a library of classic NES and SNES games.
● Local Multiplayer
The Switch promotes local multiplayer gaming with features like the ability to connect multiple consoles for local wireless play.
● eShop
The Nintendo eShop is the digital storefront for the Switch, where players can purchase and download games and other content.
●
Amiibo Support
The Switch is compatible with Nintendo's Amiibo figures, which can be used to unlock additional content in certain games.
●
Upgrades and Variations
Nintendo has released different versions of the Switch, including the Nintendo Switch Lite, a dedicated handheld version, and the Nintendo Switch (OLED model), which features an upgraded display. 
The Nintendo Switch has been praised for its innovative design and flexibility to gamers. It has become a popular choice for players of all ages and continues to receive support from Nintendo and third-party developers, ensuring a steady stream of new games and updates. 
Syntech Switch Protective Cases Can Make You Say AWW!
Syntech Home has introduced the Slim Storage Solution, tailor-made for your Nintendo Switch and Switch OLED, even accommodating them with protective cases. This isn't just any case; it's built tough to shield your console against water, scratches, and the rigors of gaming life. 
Your console is securely fastened with its adaptable elastic strap, ensuring stress-free travel. No need to fret about your beloved gaming device while you're on the go. 
Inside, it's a realm of orderly organization. A separate mesh compartment keeps your accessories neat and accessible, while ten card slots await your gaming companions. You're always geared up for epic gaming sessions. 
And here's the added luxury: a sumptuous crystal velvet lining that pampers your gaming accessories, keeping them in peak condition. 
Yet, it's not just about protection; it's also about being battle-ready. The sturdy wrist strap guarantees your Switch stays secure and within reach when the gaming action heats up. And the most important protective case with water-resistant quality will be your utmost favorite. 
This is where style and safeguarding converge, ensuring you're the trendiest gamer on the scene. 
So, embark on your gaming adventures with confidence, knowing that the Slim Storage Solution is your ultimate partner. It's got your back, front, and sides—wherever your gaming journey may lead.
Wrapping Up
Embark on your gaming adventures with confidence, knowing that this Slim Storage Solution is your ultimate partner. It's got your back, front, and sides—wherever your gaming journey may lead. This is where style and safeguarding converge, ensuring you're the trendiest gamer on the scene.
Let Syntech Home be your partner for your gaming accessory needs. The Syntech Switch protective case is all set to secure your gaming console. Get it now!