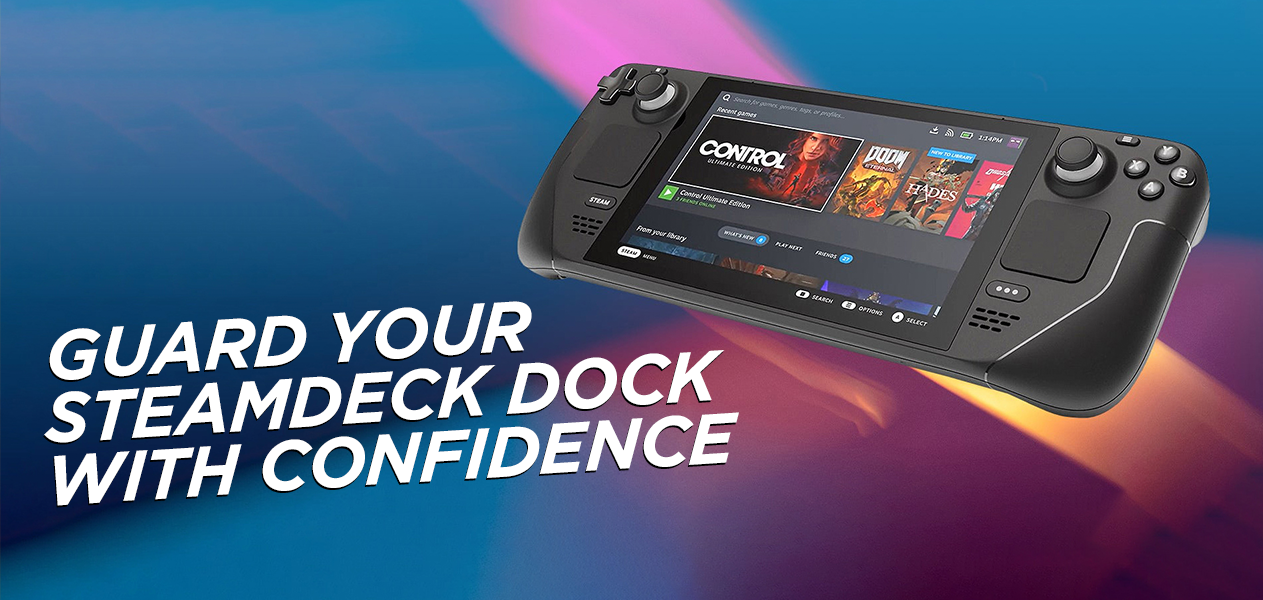 Steam Deck Dock Case: Your Ultimate Protective Solution
Hey gamers! The Steam Deck Dock Case, your ideal gaming companion, is now available! With this stylish and protective addition, you can improve your gaming setup and enhance your Steam Deck experience.
The Steam Deck Dock Case was created with gamers in mind, and it boosts the overall gaming experience. Now, you can keep a Steam Deck Dock with a case to ensure its safety.
Learn why the Steam Deck Dock is best transported in the Steam Deck Dock Case. Join us as we discuss its merits and features, which make it the best-carrying case for a Steam deck to elevate the gaming experience for every gamer.
Get Ready to Enhance Your Gaming Experience
Are you ready to take your gaming experience to new heights? The Steam Deck Dock Case is here to assist you with unlimited gaming sessions. It's not an ordinary gaming accessory; it's a game-changer! This protective case for a steam deck is meant to make your steam deck safe and secure. Game hurdles are over now, let's get into a better gaming experience!
Features of the Steam Deck Dock Case
1. Portable Excellence
The Steam Deck Dock Case is the pinnacle of portability. Thanks to the small size and lightweight structure of the case, it's never been simpler to transport your Steam Deck Dock.
This case guarantees you can do it all without fuss, whether you're going to a friend's house, a gaming convention, or to play games in another room.
2. Thoughtful Organization
Are you a disciplined person and want your gadgets organized? The Steam Deck Dock with the convenient case is here to make things simple and orderly.
It's made to keep your Steam Deck Dock secure in its designated location within the spacious bottom compartment. The zippered mesh compartment makes sure that everything stays neatly in place, so you won't have to battle with tangled cords or misplaced equipment any longer. Put an end to the trouble!
3. Unbeatable Safety
The Steam Deck Dock Case doesn't hold back when safeguarding your gaming equipment. This case offers an impenetrable barrier against potential damage because it is made of incredibly robust PC hard shell material.
Your Steam Deck will remain in top shape despite drops, bumps, and minor accidents, thanks to its strong protection.
4. Reliable Product
The Steam Deck Dock Case was created with meticulous attention to detail. Zippers with locks ensure your priceless gaming equipment is kept safe during transport.
The grips are comfortable during traveling, allowing you to play without interruption. The protective case for a steam deck is made more opulent by the soft fleece section, which elegantly cradles your Steam Deck.
5. Convenient Foldable Flap
The Steam Deck Dock Case revolutionizes mobile gaming. You can play comfortably wherever you are because of its inventive, foldable flap that also serves as a handy stand.
This case turns any place into a gaming station, whether you're waiting for a friend, getting coffee, or just relaxing at home. Your Steam Deck will remain in place when charging thanks to the Velcro strap, ensuring continued gaming.
Benefits of the Steam Deck Dock Case
The days of stressing over moving your Steam Deck dock are long gone. You can travel with ease if you use the Steam Deck Dock with a compatible case since it will safeguard your gaming equipment from the rigors of the journey.
This steam deck case that fits the dock offers not only excellent protection but also unrivaled convenience. All of your necessary accessories are kept close at hand. This protective case for the steam deck has a foldable flap that allows you to enjoy the flexibility of gaming wherever you go.
1. Travel Easily
The extraordinary portability of the Steam Deck Dock Case is one of its most notable qualities. Whether you're an experienced player or just getting started, you'll value the ease with which your Steam Deck may be stored, transported, and carried in this case.
With this case, you can stop worrying about how safely your gaming equipment will be transported.
2. Be Organized and Ready to Go
A roomy bottom compartment with organized storage options that keep your accessories in check can be found inside the Steam Deck Dock Case.
Your wires, chargers, and other necessities will be stored neatly and are easily accessible thanks to the additional layer of organization provided by the zipped mesh pocket. The hassle of searching through tangled wires and misplaced accessories is over.
3. Exception in Every Detail
A classic example of fine craftsmanship is the Steam Deck Dock Case. It has a wide range of properties that make it stand out from the competition.
Lockable zippers on the case give an extra layer of security to protect your priceless gaming equipment. To ensure that you can move your Steam Deck comfortably, padded handles are provided. A soft fleece section that cradles your device in a warm embrace also lends an added touch of luxury to the case.
4. To be Used Anywhere and at Any Moment
The Steam Deck Dock Case has you prepared for those times when you can't resist the impulse to play games on the go. Its foldable flap cleverly serves as a stand so you may support your Steam Deck while playing a game without using your hands.
This case turns any surface into a gaming station, whether sitting in your living room, at a cafe or waiting for your aircraft. Additionally, you can secure your Steam Deck in place while charging with the handy Velcro strap, assuring uninterrupted gaming.
5. Exactly What Your Steam Deck Needs
The Steam Deck Dock Case stands out as a necessary partner for your Steam Deck in a world full of gaming accessories. It's hardly surprising that gamers all over the world are choosing this case as their preferred option, given its unrivaled combination of mobility, organization, security, and versatility.
The Steam Deck Dock Case improves your gaming experience in ways you never imagined possible, whether you're a serious gamer, a casual player, or somewhere in between.
Elevate Your Gaming Journey With the Steam Deck Dock Case
The Steam Deck Dock Case is a beacon of comfort, efficiency, and security in the hectic world of gaming. It is abundantly evident as we wrap up our investigation of this gaming accessory that this case is more than simply a storage option; it is a game-changer in every way.
The Steam Deck Dock Case offers a gateway to gaming independence rather than just a protective accessory. It makes it possible to have gaming adventures in unanticipated locations and guarantees that your equipment is always prepared for use. With the help of this rare instance, elevate your gaming experience and rethink where, when, and how you play. Play on the planet as your playground!