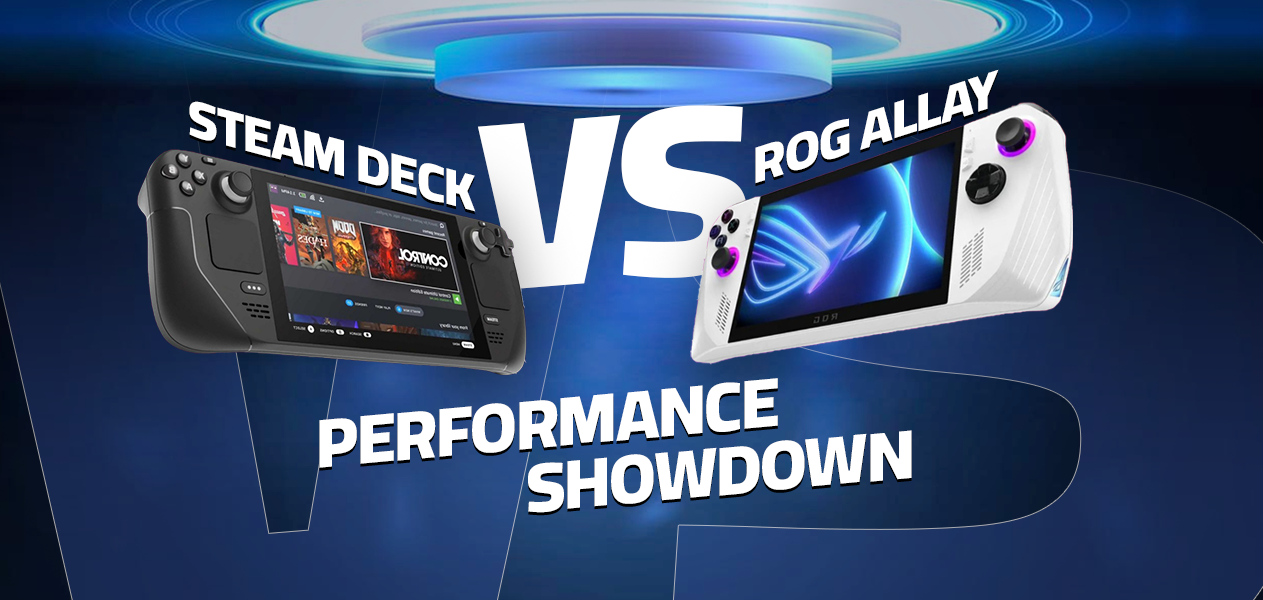 Steam Deck vs. ROG Ally: Which Handheld Performs the Best?
Speculations have forever been alive that Valve, Steam Deck's creator company, would release a Steam Deck 2 but so far there has been no new model. Lately, we've been seeing a hike in the creation of powerful gaming handhelds. Ayaneo, Lenovo, and Sony are all set to release their versions of gaming handhelds in 2023. It is, however, ROG Ally that is setting new standards for great video gaming on handhelds.
Steam Deck vs. ROG Ally has been on the mind of every gaming enthusiast. If there is one thing that set the social media and tech influencers ablaze when ASUS ROG Ally was announced and then released, it was the possibility of a handheld that could finally dethrone Steam Deck.  
This blog will talk about what we have all discovered when we did the ROG Ally vs. Steam Deck analysis ourselves! 
Discover How They Hold Up: Steam Deck vs. ROG Ally Specs
Steam Deck is supported by SteamOS while the ROG Ally comes with Windows 11. In this particular instance, the Windows 11-supported ROG can easily run games by all the Windows-compatible gaming companies. Epic games or Xbox Game Pass, even Steam, your ROG will smoothly run the game. Further, the system has an Armoury Crate to help the players get easier access to the games they want to play.
ROG Ally vs Steam Deck: The Operating Systems and the Gaming Libraries
 Steam Deck runs Steam games, the Steam library contains games that are verified to be supported and others that are playable but not at their best. You will find that emulation is pretty common on Steam Deck and Steam Deck owners keep on playing unsupported games pretty smoothly. 
Steam Deck vs. ROG Ally: The Ergonomics and Design Features
We don't care about how our handheld looks, said no one ever. Steam Deck and ROG Ally have many differences but the stark white color and RGB lights do stand out. On the other side of the spectrum, Steam Deck's black color has been open to modifications because users want more out of it. Syntech has a Silicone Protective Case in 4 different colors to provide protection and design customization.
Steam Deck is built strong and sturdy while the ASUS ROG Ally has been called a bit lighter and hence prone to damage. Users like the hold they have with Steam Deck more than they like ROG Ally's feel in their hands. The ROG Ally weighs 608 grams while Steam Deck weighs 669 grams. In the ROG Ally vs. Steam Deck size comparison, the ROG is 280mm x 111mm x 32.4mm when measured while the Deck is 298 mm × 117 mm × 49 mm.
The two trackpads on either side of the Steam Deck display hold a special distinction. Users favor the buttons and thumb stick locations on the Steam Deck. ROG Ally has been slow to earn the favor because the buttons, thumbsticks, and D-pad do not have a good feel.
ROG Ally Specs vs. Steam Deck Specs: The Display
Do you want to see the real difference in Steam Deck vs. ROG Ally specs? Notice the display of the two gaming handhelds. The display of ASUS ROG Ally is phenomenal! ROG Ally has a 1080p display with a 120Hz refresh rate. The colors and the brightness (noted at 500 nits) look amazing on the 7-inch touchscreen.
Steam Deck is not far behind with its 800p display and 60Hz refresh rate. The screen, however, only manages to deliver around 170 nits worth of brightness that's not enough to play in the sunlight outside. 
ASUS ROG Ally vs. Steam Deck Performance
Let's remember that the two giants have years between them as far as processing powers and the resultant performance are concerned. ASUS ROG Ally is ahead in its performance compared to Steam Deck and there's a simple reason behind it: superior processors. Steam Deck has a Custom AMD Zen 2 APU that is inferior to the AMD Ryzen Z1 and Ryzen Z1 extreme chipset versions of the ROG Ally. Furthering the mentioned specs, Steam Deck has 4 core and 8 threads setup whereas the ROG Ally has 6 core and 12 threads setup. 
ROG Ally's chip versions are better than the Steam Deck's Van Gogh chip
The new chip setup has a better ability to manage the power used by the handheld
Steam Deck tends to get sluggish as the graphical requirement increases, whereas ROG Ally easily opens the same games at 1080 and 720 resolution
ROG Ally is the clear winner when it comes to speed. 
Steam Deck vs. ROG Ally Performance's Impact on the Battery Life
If you're going to play games that require 3D world-building and characters, there is going to be a larger power usage by the handheld processor. It is a no-brainer, if you want longer battery life, play 2D games. 
Steam Deck has the fascinating ability to modulate its power draw when 2D games are in play. You can easily get 6 hours of game play with a Steam Deck that runs at 4 watts. On the other hand, we have ASUS ROG Ally that runs on high-powered resolutions that cannot run on low power.
While the most the Steam Deck uses is 15 watts, ROG Ally has a Turbo 30 watts mode that is best run when the handheld is connected to the charger. Syntech's 6-in-1 Docking Station for Steam Deck and ROG Ally allows the power passthrough for both handhelds to perform well. With Syntech's docking station, the Turbo 30W mode works well.
Steam Deck vs. ROG Ally Price Matters
The 512GB ROG Ally comes at $700 while a closely compared 512GB Steam Deck version retails at $649. Steam Deck has other versions as well with varying storage including 64GB at $399 and 256GB at $529. Steam Deck is available mainly online on the Valve website while the ASUS ROG Ally is sold exclusively at Best Buy. 
In the Steam Deck vs. ROG Ally price race, we should remember that one has evolved with numerous updates and the other is as of yet untested. However, it is unfair to overlook the superior performance and bright graphics of the ROG Ally. The price for both ultimately feels justified. 
Steam Deck vs. ROG Ally: A Saga for Coming Days
Whether or not you are a fan of Steam Deck already, you cannot deny that in the Steam Deck vs. ROG Ally race, the ROG Ally is winning. While some users say that the ROG hasn't started performing as well as it promised, only time and future updates will tell. What we do know is that Steam Deck is an amazing handheld and we wish that ROG Ally will follow with a similar consistency of performance. 
Keep an eye out on our blog to see what's new with the ROG Ally in the coming months.