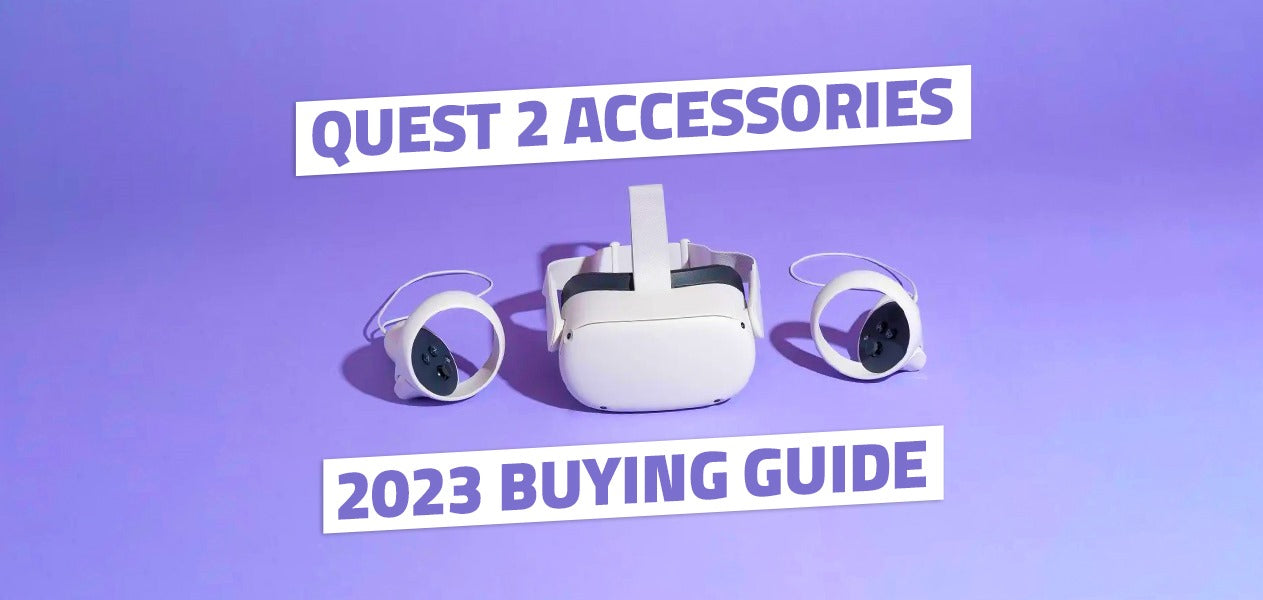 Quest 2 Accessories Buying Guide in 2023
With new accessories coming into the market left and right, it is alright if you're a little bit confused about what to buy for your Quest 2 setup. Let's not forget that by the end of September 2023, we will all be able to get our hands on Quest 3. The Quest 2 accessories market would slow down after Quest 3 release and you won't have to worry about buying the latest and the shiniest.
However, since we are all here, why not talk about the Quest 2 accessories that are a must-have?
Quest 2 Accessories That You Need to Buy Right This Instant!
Where Would We Be Without Quest 2 Battery Packs?
Probably sitting on a couch, dozing off in the real world. Meta Quest 2 battery packs are the life source for any VR gamer's life. Your Quest 2 comes with a battery time of about 2 to 3 hours and that's never enough for zooming around in the virtual world. Let's face it, we all need a lot more time in VR. How do you achieve that?
By lowering the graphic requirements of your game?
Don't make this brutal trade. Instead, buy a Quest 2 battery for a better Quest 2 battery life.
The Quest 2 battery is a must-have Quest 2 accessory and here's how it helps you out:
Adds in 3 to 6 hours of extra play time depending on the battery's power capacity. We have seen options with 5200mAh, 6400mAh

, and 10,000mAh in the market. Syntech has its own 10,000mAh battery pack that combines with the Quest 2 battery to give you almost 8 hours of playtime depending on the load you put on the graphic processor.

Provides the

counterweight to the heavy Quest 2 headset. Let's not forget that the Quest 2 headset tends to press on the user's face. Your neck is saved from straining during gameplay.
These 2 reasons effectively help you play for a longer time. What's more, third-party accessory manufacturers have produced some really amazing options for the Meta Quest 2 battery. Syntech's own battery pack is phenomenal at handling the high power requirements of the headset. You can easily rely on the 10,000mAh battery pack for support.
Head Straps are Mandatory for Quest 2!
If you were to check the top Quest 2 accessories sold and suggested to Quest 2 users, you'll find its head straps for Quest 2 that every Quest 2 buy. The original head strap that comes with the Quest 2 is incapable of providing the support your Quest 2 needs. As a consequence, we see that the Quest 2 users have one or all of the following complaints.
The headset is unstable on the head

Quest 2 is pressing on the head at odd points
Neck pain
Lower back pain
These are enough reasons to stop playing VR games entirely but thankfully we have head straps, must-have Meta Quest 2 accessories!
A good head strap will support the headset without pressing on one point on your head. Rather the head strap would distribute the pressure across your head so you don't feel any pain. Your neck and back will thank you for the use of a proper head strap with Quest 2.
Syntech's head strap for Quest 2 has 2 components to help ensure the even distribution of pressure even when you don't use a battery. Both the bands easily help the user in adjusting the head strap and the headset as per the user's needs. 
Hard Carrying Case to Secure Your VR Quest 2 Accessories
So you own the best Quest 2 accessories in the whole wide world. You have a head strap that fits you perfectly and the battery pack is phenomenal. Your headset is filled to the brim with the best games out there. How do you keep these things safe when you are not using them?
What's your storage plan like?
You do know that you cannot keep your Quest 2 headset lying around in the open, right? The frenal lenses inside Quest 2 can damage your display when they are exposed to sunlight or high-intensity light sources. On the other hand, we have other Meta Quest 2 accessories, let's imagine that you have a box where you place everything, are they secure in their places?
A good hard-carrying case for Quest 2 will solve all of these concerns for you. Syntech's Hard Carrying Case for Quest 2 as an example can carry your headset and your larger head straps in it. The carrying case is well cushioned inside with slots for every accessory you use. The Quest 2 battery strap goes in its own place while the link cable and controllers have their own designated locations inside.
Link Cable to Keep You Connected
You cannot say that you have all of the Quest 2 accessories without owning a good link cable for your Quest 2. Originally, the Meta-produced link cable is made of fiber optic which grants it a really good data transfer speed. The more the speed, the better you experience PCVR. Another benefit of using a link cable is that it can charge your headset while you continue to play, this feature certainly increases the Meta Quest 2 battery life.
Thanks to the third-party manufacturers, the market is full of affordable alternatives to the Meta link cable. Syntech certainly has one of the best-performing link cables in the market. The link cable coincidentally has two variants: regular and powered. With Syntech's link cable, you get 3.0 data transmission speed and the cable comes with a USB connection on one end and a USB-C connection on the other. Another element that's good for the user, is the Velcro strap that stops the excessive motion of the link cable. This helps in reducing the damage to the USB port on the Quest 2. 
Controller Grips to Stay Safe
Our Meta Quest 2 buying guide will be incomplete without mentioning the best thing out there for protecting your fragile little Quest 2 controllers. The ring part is especially susceptible to damage and needs protection from impact. Other than this, the Quest 2 controllers do need extra grip so that they do not slip out of your grasp during games. For this very purpose, Controller grips are very popular amongst the Quest 2 users.
Syntech's version of controller grips for Quest 2 leaves no stone unturned. You get TPU material grips with silicone ring covers to save the rings from damage. The Velcro straps ensure that the controllers stay in your grasp throughout your game. The best thing of all, the whole apparatus is washable. 
You Can Now Buy the Best Quest 2 Accessories
You can now easily pick out the best Quest 2 battery pack for your headset as well as all the best Meta Quest 2 accessories pretty easily thanks to our nifty guide. Just make sure to check out the necessary features for each of the mentioned products. It's easy to buy Quest 2 accessories online now thanks to the different online forums that regularly post product reviews. Make sure to survey and assess each product before you make the purchase. If you find yourself searching for a one-stop for all of these mentioned accessories, check out our
website
!