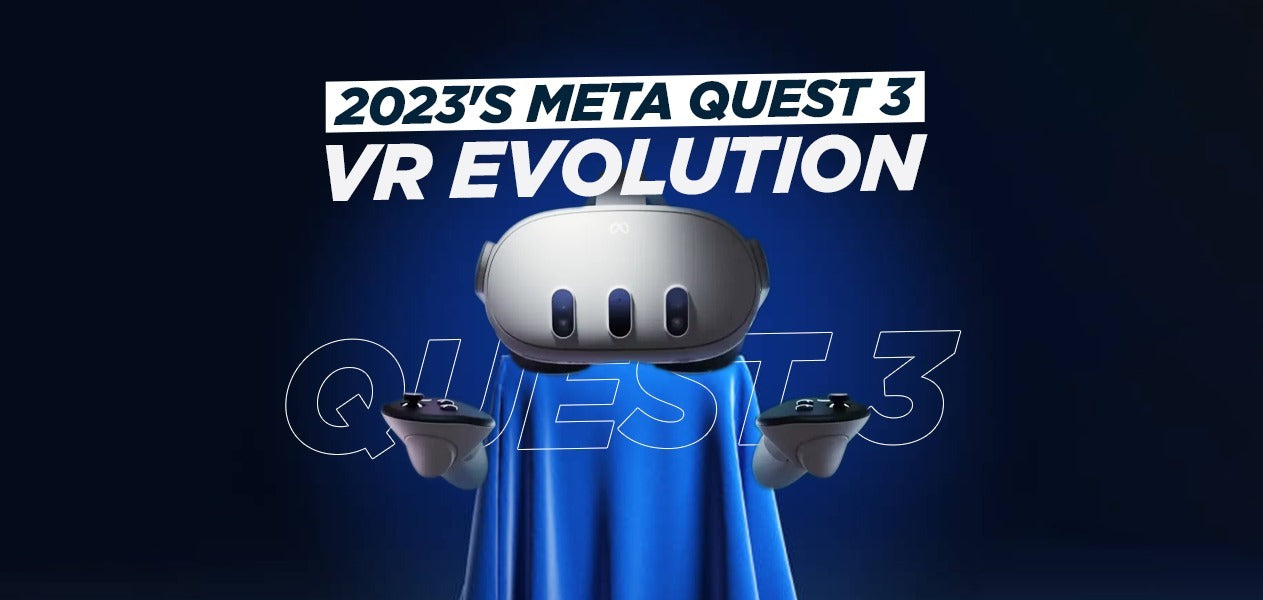 Meta Quest 3's Evolutionary VR Experience in 2023
Hey there, fellow tech enthusiasts and VR dreamers! We've got some awesome news that's about to take your wildest tech fantasies to a whole new level. Are you ready to go from being a mere observer to an active player in the world of your dreams? Well, the Meta Quest 3 VR headset has arrived, and it's here to make it happen!
Picture this: you're stepping into the shoes of legendary figures, witnessing mind-blowing events, and embarking on epic adventures that span time and space. All those cosmic dreams and grand universe explorations? They're no longer just fantasies.
So, gear up, my friends, and prepare to jump headfirst into an experience that'll challenge your reality, spark your curiosity, and remind you that whether it's virtual or real, the world is your canvas, and it's time to paint your own story.
The future is right here, and it's yours to mould in the limitless realm of the Meta Quest 3's Evolutionary VR Experience.
Putting All Your Senses To Action
Picture this: You're at the heart of an ancient marketplace. Spices in the air, merchants negotiate with gusto, and sunlight showering over you. Now, blink those eyes open – you're not in history class; you're in Meta Quest 3's Evolutionary VR Experience. With a Meta Quest 3 VR headset, dive into your world of imagination in no time. Thrilling, isn't it?
The Meta Quest 3 Is Almost Here: Meta Quest 3 Pre Order
This month, on the 27th of September, we're finally going to have the Meta Quest 3 release date. The date is expected to be this fall, probably in the first week of October.
Before your Meta Quest 3 pre-order, you must know a few things about this fantastic release. Though this part is not announced yet, there's FCC approval for the Quest 3 charging dock, which we have been seeing for the Quest Pro Max.
This one comes with rechargeable AA batteries for the controllers. This prevents it from going dead. Though these features are not announced officially at CONNECT, we see an official approval for the features by the FCC.
Moreover, it's confirmed that it uses 6 GHZ Wi-Fi 6E, which gives a better connection when gaming.
We know the price is 500$, so we're just waiting for its release to experience the newer VR.
Meta Quest 3 Vs. Meta Quest 2 - The Battle Begins! 
Meta Quest 2 vs. Meta Quest 3 is important to understand before you opt for Quest 3. Meta Quest 2, released in October 2020, featured the Snapdragon XR2 platform, delivering a solid VR experience with good graphics and a high-resolution display. It provided access to the Oculus Quest library, known for its affordability, and came with comfortable Oculus Touch controllers.
On the other hand, Meta Quest 3, launched in 2023, represents an evolution with upgraded hardware, potentially the Snapdragon XR3, offering enhanced performance and more realistic visuals. It's expected to feature improved graphics, a higher refresh rate, and better screen technology, promising a significantly more immersive experience.
While Meta Quest 2 was renowned for its affordability, Meta Quest 3 may come at a higher price point due to its advancements. Expect improved controllers with added functionality and enhanced haptic feedback. Both devices maintain access to the extensive Oculus Quest library, but Meta Quest 3 is poised to take virtual reality to the next level.
Should You Buy Quest Pro Now Or Wait For Quest 3?
The first thing that comes under consideration when choosing between Quest Pro and Quest 3 is the pricing. Quest Pro is available at 999$, while Meta Quest 3 Oculus prices will start at $499. This makes Quest 3 an obvious winner unless we consider some hidden facts.
We still need to determine how much larger the storage model Quest 3 will cost. You may need to buy Quest 3 controllers and the Quest 3 device, which would sum up the price range near Quest Pro.
Next comes the comfort factors. Quest Pro's battery is in the back, so the default strap is balanced. While the Quest 3 will come with elastic straps that may disturb your comfort level. You may need to replace that, which is an additional cost.
 Moreover, Quest 3 will get an edge in passing through the mixed reality. Quest 3, too, has the depth sensor, unlike Quest Pro, but it doesn't come with face and eye tracking. However, Quest Pro is the only VR headset with great controllers you can get in the $999 value. You can also have Pico 4 in the same price range, but it's worth moving forward with the Pro.
So, all our votes are with Meta Quest 3 right now. Wait for the release to have the premium VR experience.
Meta Quest 3 Controllers 
Meta Quest 3 controllers are the touch-plus controllers that are something between the Meta Quest 2 controllers and Quest Pro Controllers. The Quest 3 controllers neither have the tracking ring, like Quest 2 controllers nor do they have the camera like the Quest Pro Controllers. This apparently hinders tracking, but the CTO of Meta has addressed the concerns by saying that the Cutting  AI Model would actually be used for tracking purposes.
What to Expect from Upcoming Quest 3
Get ready for the gaming adventure of a lifetime with the Meta Quest 3, which's soon to release. This VR model is not just a mere upgrade; it's like a quantum leap into the future of virtual reality.
It's all about turbocharged performance that comes up with the beefed-up processor, the Snapdragon XR3. Brace yourselves for mind-blowing graphics, a super-smooth refresh rate, and possibly an even cooler screen tech that'll make your jaw drop. And guess what? You won't be saying goodbye to your favorite Oculus Quest games because this champ still gives you access to that vast library.
Are you very excited? How about you check out some of our favorite 
Meta Quest 2 accessories
until the most awaited Meta Quest 3 is out.