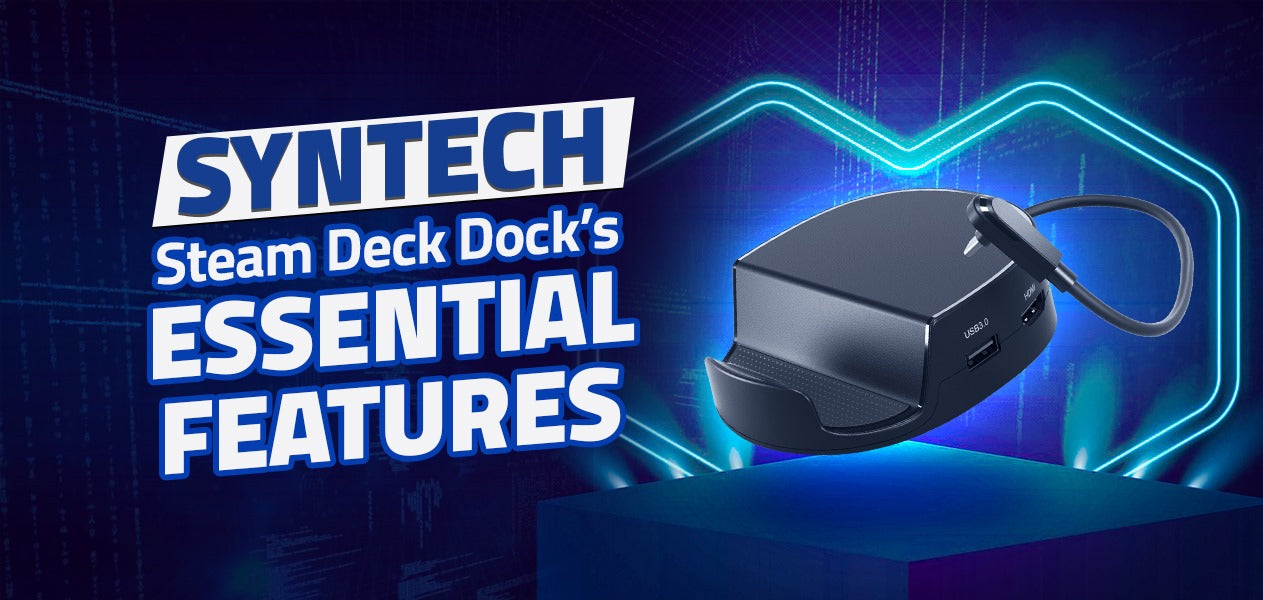 6 Standout Features of Steam Deck Dock by Syntech
If you are an old Steam Deck user, you must have waited for the Steam Deck release like the rest of us and wondered what a marvel this device would be. Your faith in Valve Steam Deck stayed strong till they released the Steam Deck docking station.
How could something so small be so expensive?
So began your search for the perfect Steam Deck docking station that would provide you with everything you want in your budget. In this search for this Valve Steam Deck accessory, you finally reached the most unique docking station for Steam Deck. Syntech's 6-in-1 Docking Station is something you need to get your hands on and here's why we say so!
6 Syntech Docking Station's Features That Are Making Waves
1. Clear Visuals and Audio
Syntech's 6-in-1 docking station for Steam Deck comes with HDMI 2.0 4K@6Hz. What this means is that your HDMI connection will support up to 50 to 60 frames per second. Your gaming applications all require a 60fps for a smoother gaming experience. With DisplayPort, you can argue that you get the same fps. However, the DisplayPort only supports shorter cable lengths and so is ideal in only particular use cases. HDMI can go up to 15 meters before its performance level declines.
The HDMI 2.0 port in the docking station also ensures that you get the best possible audio experience once your Valve Steam Deck is connected to the device. You don't need to be anxious about a bad audio experience with Syntech. 
2. Amazing Connection with the Peripherals
With your Steam Deck in your hands, it is hard to imagine that you can need any other Steam accessory to enhance your Steam Deck experience. However, it turns out that a docking station is the one Steam Deck accessory that you just need to have to take your experience to another level. At this point, we are talking about how Steam Deck, Valve's best product yet, can be turned into a PC.
 You can also turn your Steam Deck stream to PC and have an amazing gaming experience together with your friends. Your friends can connect their controllers to your docking station if there isn't room for connection directly.  The HDMI 2.0 will elevate the experience on the bigger screen.
On the other hand, this docking station can easily connect with all of your USB devices. It's just your Steam Deck that would need to accept the devices.
3. Fast Internet Connection
You bought your Steam Deck handheld with one goal in mind, gaming. Once you got your hands on the device, you learned that the games need a constant supply of good internet connection. This reality has made most of the users accept lower fps to maintain speed in the game. Some wait for hours for a game to download.
With Syntech Docking Station, you get a Gigabit Ethernet port that connects your Steam Deck directly to a fast connection. This means that your gaming experience immediately gets much better. How?
You get faster download and game action in

real-time without any delay

There is no lag in your reaction time during the games.
Now you know that owning a docking station just might help you win your next gaming tournament on your Steam Deck.
4. Fast Charging and Data Transfers
When you start playing games on your new Steam Deck, you learn very quickly that Steam Deck games drain the battery of the handheld quickly. You can get less battery playtime the more graphic requirements your game has. Now, all of us want a long playtime, and sitting right next to the electricity outlet to charge the Steam Deck is not the ideal solution. On the other hand, with Syntech's docking station, you can simply plug in the charger to the docking station via the USB-C port and continue playing your game.
The USB-C port and USB ports are not only for simple charging and accessory connections. The USB ports also allow fast data transfer between devices. You can use your external hard drives with the docking station, connect with the Steam Deck, and play Steam Deck games.
5. Unique Design of the Dock
Syntech has its original design for the Valve Steam Deck docking station. With the perfectly sized cradle for the Steam Deck, the dock doesn't block any of the Steam Deck vents. The design thus ensures that there is no thermal throttling. The curved posterior part of the design makes it easy for the ports to be spaced out. You can easily get all your wires plugged in without any fear of tangles.
If you are looking to stand out from the masses that own Steam Deck and docking stations, this Syntech Docking Station is your ultimate choice.  
6. Quality of the Product
Every time one of us considers buying something for a new Steam Deck, the quality of the product is at the front of the list. Because once you buy Steam Deck, you want to take care of the huge investment you've just made.
Syntech's 6-in-1 Docking Station for Steam Deck is made of high-quality ABS+PC material that is completely recyclable. With the use of this particular material, our docking station has achieved durability and is lightweight at the same time.  
Syntech Docking Station is Waiting for You! 
If you've read through this blog, you know
Syntech's 6-in-1 Docking Station for Steam Deck
is a must-have accessory for you. The fast charging abilities, internet connection, multiple accessory connections, and audio-video features of the docking station along with its unique design make the Syntech Dock a high-functioning accessory. With Syntech's docking station, you cannot go wrong.