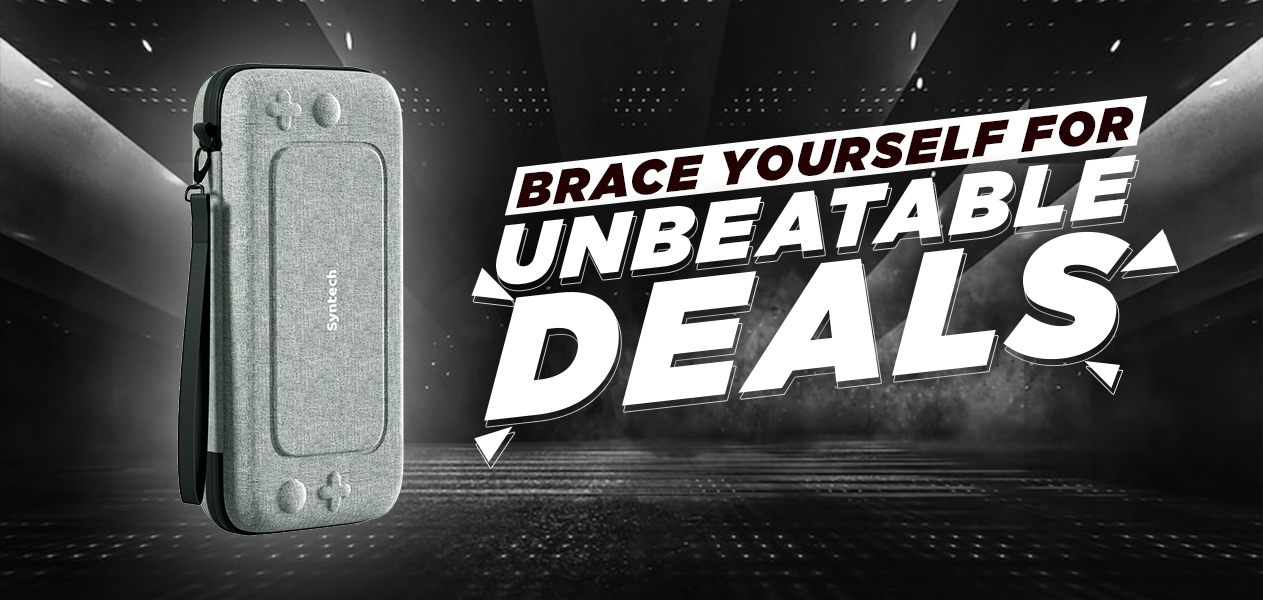 Nintendo Switch Black Friday 2023: Incredible Deals Await
Nintendo Switch black Friday 2023 is expected to be a game enthusiast's dream come true, and as the holiday season draws closer, the excitement surrounding it grows. This year, the focus on the coveted Nintendo Switch deals is at an all-time high, especially with the prospect of new releases and developments in gaming technology.

There are plenty of ways to find the best prices on various products, including the highly coveted Nintendo Switch gaming consoles and accessories, between Nintendo Switch Black Friday and Cyber Monday.
Overview of Nintendo Switch Models
One of the most sought-after gaming device is the Nintendo Switch, released in 2017. Because it's a "hybrid" console, it may be used as a handheld device in addition to a standard home console.

The Nintendo Switch Lite, which debuted in 2019, was made especially for portable gaming and lightweight play. Additionally, the Nintendo Switch OLED debuted in 2021 with a vivid seven-inch OLED screen, improved audio, and various play possibilities.
The Prognosis for Nintendo Switch Black Friday Sales in 2023
Anticipations are high for tempting discounts on Nintendo Switch systems and accessories as Nintendo Switch OLED Black Friday is near. It's expected that retailers will provide significant discounts and bundles. There is hope for better deals this year based on last year's offerings, which included the uncommon savings on the OLED model and the reintroduction of the $299 / £259 Mario Kart 8 package.

2022's Black Friday Nintendo Switch deals showed an increasing pattern of significant savings, particularly at the conclusion of the year. Every year that goes by, there are more and more consoles available on the shelves, which means that the savings are increasing.
Top Nintendo Switch Black Friday Deals



To make your search for the best deals easier, here is a Nintendo Switch Black Friday discount on Nintendo Switch consoles and accessories.

Syntech is offering you the best Nintendo Switch accessories and you should expect to see sales in the coming future.
SlimCarry: The Perfect Friend for the Nintendo Switch
Discover the ultimate in Nintendo Switch accessories, i.e., Slimcarry, a limited-edition product exclusively sold at Syntech. This adaptable device, designed for use with both Switch and Switch OLED, has an elastic band that keeps it secure and is resistant to water and scratches.

Its luxurious velvet lining, ten card slots, and specialized sections keep your gaming needs safe and orderly. The Slimcarry, which embodies a blend of beauty and functionality, is the perfect on-the-go companion for your gaming excursions thanks to its sturdy wrist strap.
Discover and purchase the Slimcarry and a variety of unique Nintendo Switch accessories exclusively at Syntech, your one-stop shop for cutting-edge gaming accessories.
Expectations for Black Friday 2023
Will there be a Black Friday sale for the Nintendo Switch? Sure, there will probably be discounts on Nintendo Switch games as well as possible system bargains at Syntech. Syntech's Nintendo Switch Black Friday deals often bring with them some very tempting discounts on Nintendo Switch units.

Nintendo Switch and Switch Lite have been available since 2017 and 2019, respectively, and retailers are more likely to provide significant price cuts and package discounts. With the release of the Nintendo Switch OLED in 2021, there might be discounts this year for earlier variants as well.
Estimated Start Date for Nintendo Switch Discounts
In the past, sales for the Nintendo Switch started to appear weeks in advance of the official Black Friday Nintendo Switch date. The biggest discounts this year are expected to appear after November 15.

In the UK, Nintendo Switch Black Friday officially begins on November 24. The enthusiasm builds throughout the weekend and culminates on Cyber Monday, November 27, giving gamers a longer window of chance to score the Nintendo Switch Black Friday deals they've been waiting for.
Examining the Highlights of the Past Year and Projecting the Future



As the Nintendo Switch approaches its seventh year of release, fans hope for more extensive and considerable savings on both the hardware and games.

The community looks forward to a wider variety of Nintendo Switch Black Friday deals. And Syntech is offering you Slimcarry for Nintendo Switch and OLED at an affordable price. So what are you waiting for? Go grab yours only at Syntech.

Why Choose the Nintendo Switch
The Nintendo Switch is more than simply a gaming system; it's a doorway to a wide variety of inclusive gaming experiences. Because of its special hybrid design, it can easily switch between a conventional home console and a portable handheld gaming device, meeting the needs of a variety of gamers and lifestyles.

A Wide Range of Video Games

The Nintendo Switch's wide selection of games is among its most alluring features. The system has games for all age groups and tastes, ranging from lighter and endearing life simulation experiences in Animal Crossing: New Horizons to immersive open-world adventures in "The Legend of Zelda: Breath of the Wild."

All types of gamers can enjoy the selection that the Nintendo Switch has put together, including casual players, families looking for family-friendly entertainment, and die-hard fans.

Fun for the Family
There are a ton of family-friendly games on the Nintendo Switch that promote bonding and shared experiences. Games like Super Mario Party, Mario Kart 8 Deluxe, and Splatoon 2 let several players play together or in friendly rivalry.

The console becomes the focal point of family fun because of these games, which promote humor, cooperation, and friendship.
Amusement for Individuals
Apart from games designed for families, the Nintendo Switch also offers individualized experiences to suit the needs of individual players.

The system offers captivating worlds and difficult objectives for lone players, from the grand adventures of The Legend of Zelda series to the nostalgia of vintage Mario games like Super Mario Odyssey and Super Mario 3D World + Bowser's Fury.
Creative Gaming

Innovative and varied gameplay styles are made possible by the console's distinctive design and removable Joy-Con controllers.

The Nintendo Switch accommodates a variety of play styles with its motion-controlled motions and button-based gameplay, guaranteeing an enjoyable gaming experience for anyone.

Adaptability and Flexibility

Its smooth transition between TV and portable modes lets users carry their gaming experiences with them wherever they go.

The Switch's portability makes it possible to play games while traveling, commuting, or just hanging out in different rooms of the house, all while maintaining an uninterrupted gaming experience.

Never-ending Innovation

The release of the Nintendo Switch Lite, a specialized handheld version, and the more recent OLED model, which offers improved graphics and audio, demonstrate how the Nintendo Switch is still developing and innovating.

The system stays at the forefront of gaming technology thanks to these constant upgrades and developments.
Syntech: Your One-Stop Destination for Nintendo Switch Accessories
Find exclusive Nintendo Switch accessories, including the versatile SlimCarry, available only at Syntech. As Nintendo switch black Friday 2023 draws near, and gamers get ready for an incredible influx of sales, Syntech offers you discounts on games, bundles, and accessories sales are all set to improve game collections without breaking the bank.

Expectations are high for big discounts on Nintendo Switch game consoles and accessories as Syntech promises great discounts for gamers, with a plethora of retailers joining the sale frenzy and the possibility of enticing packages. Get ready to dive into a gaming paradise on Nintendo Switch Black Friday by making your wish list, setting your budget, and getting in the mood. It's time to play!