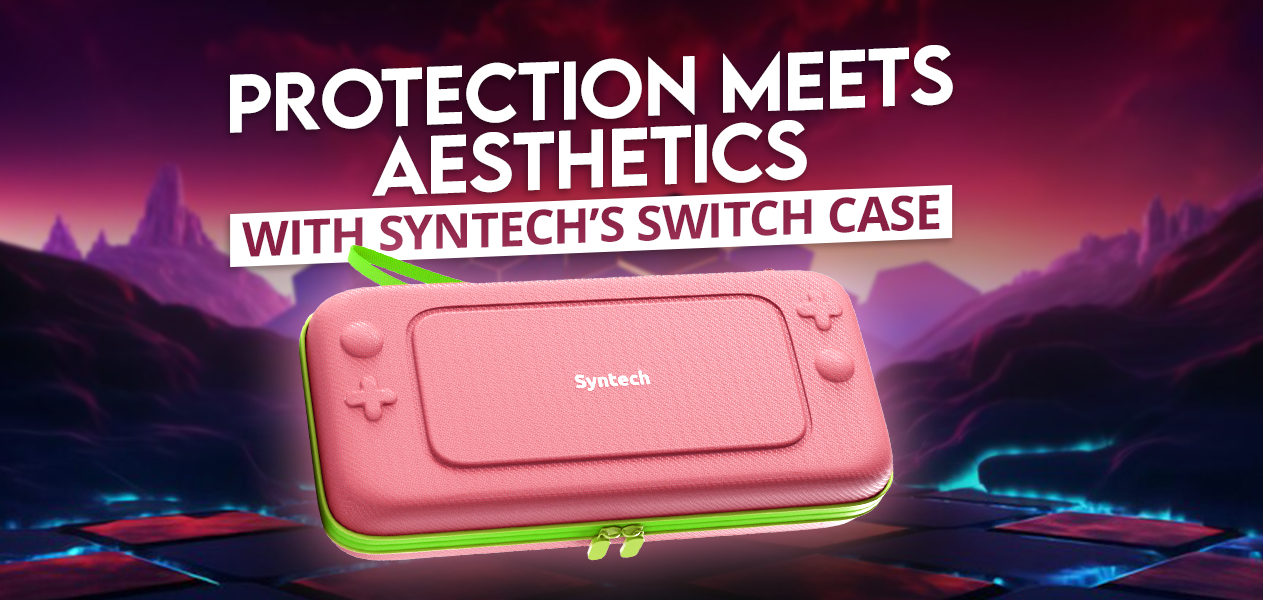 Level Up Your Gaming Style With The Portable Carrying Case
The Nintendo Switch is a potent and versatile portable gaming console that has captured the imagination of the gaming world.
But what if you could further improve your gaming experience? Imagine being able to boldly declare your identity as a gamer while simultaneously safeguarding your Nintendo Switch.
Features Of Syntech's Nintendo Switch Case
Credit: Syntech 
1. A Slim Storage Solution
With Syntech's small storage solution for the Nintendo Switch, gaming on the road has never been simpler. These Nintendo Switch cases fit well with your protective covers, whether you have a Nintendo Switch or the newest Switch OLED. 
Now, you can carry your console with peace of mind, knowing it's protected against scratches and the occasional drizzle.
2. Stress-Resistant Armor
Playing video games can be quite intense, and mishaps can occur occasionally. You can add additional protection to your Nintendo system by using Syntech's Nintendo Switch cases.
These cases offer stress-resistant armor in addition to protecting your smartphone from water and scratches. So, your console is protected at all times.
3. Adaptable Elastic Band
A flexible elastic strap that securely fastens your console is included with Syntech's custom Nintendo Switch cases. Your gaming partner is snug and safe, so you don't have to worry about it jostling while in transit.
4. Organized Bliss 
Consoles aren't the only things that make gaming organized. Syntech knows very well that accessories also play a big role. To keep your accessories organized, we are providing you with Nintendo Switch Pro controller cases for convenience.
Each case has its mesh compartment. You can keep everything accessible and organized, including spare controllers, wires, and headphones.
5. Luxurious Crystal Velvet Lining
Credit: Erik Mclean on Unsplash
Your Nintendo console deserves the best, and Nintendo Switch cases deliver just that. Luxurious crystal velvet lines the interior, providing your gaming accessories with soft protection. This gives your gaming setup a refined touch while also guaranteeing the security of your equipment.
6. All Set to Go
Gaming is all about living in the moment. With cases for the Nintendo Switch, you're never far from the action.
Even during long traveling sessions, your Switch will remain safe thanks to the sturdy wrist strap. It's a declaration of readiness for the upcoming game as well as all-rounded protection.
7. Style and Safety Together
Your gaming style is a reflection of who you are, and Syntech recognizes the importance of standing out.
These Nintendo Switch cases combine protection and style in the most delightful way. Your Nintendo console becomes a reflection of your gaming personality – bold, ready, and stylish.
8. Travel With Confidence
The last thing you want is to worry about your gear's safety when you're out on a gaming trip. Nintendo Switch Lite cases from Syntech become your perfect companion for all your gaming adventures.
Travel with assurance, knowing that your accessories and console are not only well-organized and fashionable but also safe.
Benefits of Nintendo Switch Cases
The accessories you choose to use in the ever-changing world of gaming can have a big impact on how much fun you have playing. Nintendo Switch Lite cases from Syntech not only look good, but they also come with a ton of bonuses that improve your gaming experience.
1. Safety and Fashion Merge
Nintendo Cases from Syntech combines fashion and security to offer a one-stop shop for your Switch's security needs. They provide a remarkable fusion of protection and style, taking your gaming accessories to a whole new level.
2. The Ultimate Mobility
These cases for Nintendo Switch provide the best portability for gamers who are constantly on the go. You do not need to be concerned about damage when carrying your Nintendo Switch or Switch OLED. The slim storage solution ensures that you will always have everything you need to game, even while you're on the run.
3. Scratch Resistant
The Nintendo Switch Pro controller cases serve as a barrier to keep off scratches and unintentional harm. This benefit guarantees that there are no ugly blemishes or flaws on your Nintendo Switch, keeping it in fresh condition.
4. Effortless Travel
During travel, the elastic strap's versatility guarantees that your Nintendo Switch stays firmly attached. With total peace of mind, you can bring it on trips, to gaming events, or to a friend's house.
5. Organized Accessory Storage
The custom Nintendo Switch cases from Syntech provide a separate mesh pocket to keep your accessories accessible and organized. It serves as a comprehensive storage solution for your gaming accessories in addition to being a protective cover.
6. Slots for Gaming Cartridges
You can easily carry your game cartridges thanks to the ten card slots. Your favorite games will always be with you, neatly arranged inside your skins, so you never need to worry about leaving them behind.
Conclusion
Syntech's Nintendo Switch cases are more than just protective covers. They're an extension of your gaming identity. Elevate your gaming experience and make a statement with the perfect blend of fashion, safeguarding, and organization.
Your Nintendo Switch is not just a gaming console; it's a testament to your commitment to gaming excellence. So, level up your gaming style with Syntech's Nintendo Switch case, and let your gear do the talking.