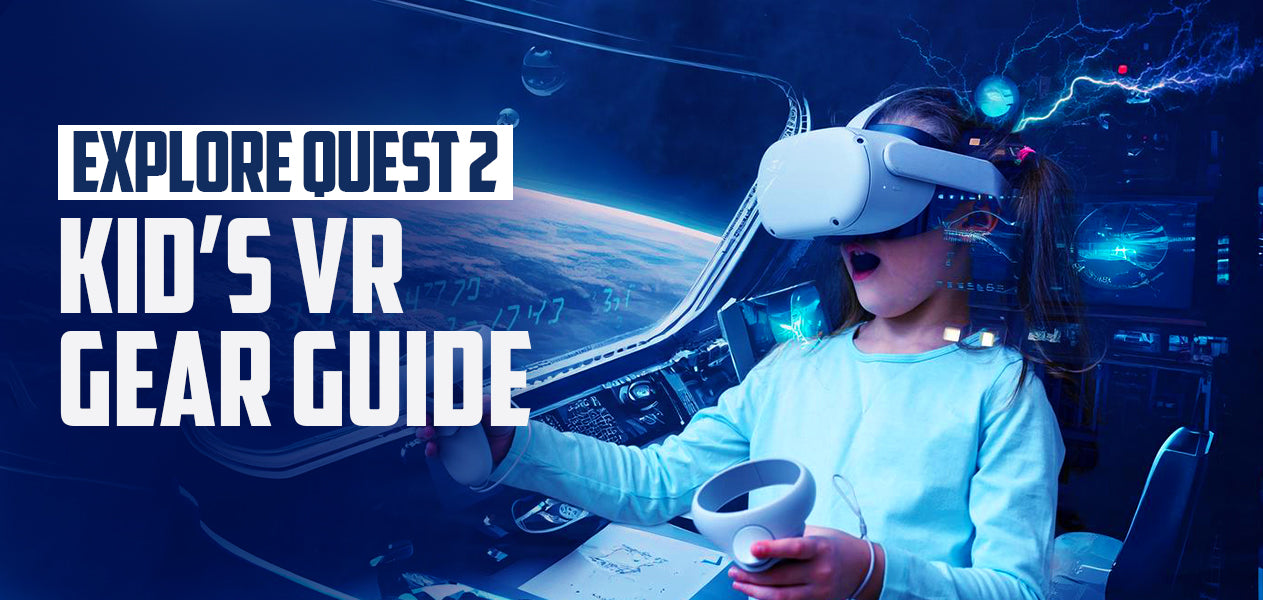 Kids in VR: Must-Have Accessories for Meta Quest 2
Imagine a room filled with children immersed in a captivating VR experience. They wear distinctive headsets and dive into the world of Meta Quest 2 games for kids, where technology merges with imagination to create a unique adventure.
Virtual Reality (VR) gaming has transformed the way kids play, providing an engaging and equally exciting experience. In VR, their real world seamlessly integrates into the virtual environment. They can reach out to catch virtual butterflies or explore hidden treasures, blurring the boundary between reality and fantasy.
To enhance the Meta Quest 2 experience, it's essential to consider the right accessories. Let's explore the essential Quest 2 accessories that can elevate the VR gaming experience.
Accessories For Meta Quest 2 - VR Journey Redefined
1. Head Strap Compatible With Quest

Perfect compatibility for a transformative gaming experience
Cotton strap for improved ergonomics and comfort
Extended gaming without discomfort
Optimized design with sidebands for additional head support
Premium materials ensure durability
Introducing the ideal accessory for young gamers: the kid-friendly Meta Quest 2 head strap designed to enhance their Quest 2 gaming adventure. This innovative accessory ensures perfect compatibility, promising a transformative experience.
Engineered with a cotton strap, it improves the overall ergonomics and the comfort of a child's head. This allows extended gaming without discomfort. The design is perfectly optimized with the sidebands that give additional head support, also making it the best Meta Quest 2 accessory for kids.
Made from premium quality materials, it guarantees durability, while its hassle-free quick-release mechanism simplifies adjustments. Elevate your child's Quest 2 gaming experience with this essential addition, providing comfort and enjoyment for hours of gaming. Say goodbye to discomfort and hello to limitless fun.
2. Touch Controller Grip Covers
Crafted with soft, kid-friendly materials
Perfect for exciting VR adventures
Easy to put on, so kids can dive into the action
Compatible with various gaming consoles
Say goodbye to the slippery controllers and say hello to Syntech's touch controller grip covers. Crafted with soft, kid-friendly materials, they offer a comfortable and secure grip for those exciting VR adventures.
They're super easy to put on, so kids can get right into the action. Plus, they're compatible with various gaming consoles, making them versatile for all their gaming needs.
These non-slippery covers come with silicone rings that help protect the controllers during intense gaming. Let your kids enjoy the best Meta Quest 2 games for kids without worrying much about the scratches and undue slipping of the controllers.
3. VR Battery Pack
Extends battery life up to 6 hours
High-capacity battery for worry-free VR immersion
Snap-fit design and durable ABS material
Lightweight for comfort during extended play
Quick-charging feature minimizes downtime
The authentic passport to uninterrupted virtual reality adventures!  VR Battery Pack for Meta Quest 2 is a sleek and powerful accessory designed to supercharge your kid's VR experience, extending the battery life up to 6 hours.
With its high-capacity battery, one can dive into the immersive world of Meta Quest 2 without worrying about running out of power.
Its snap-fit design and ABS material usage make it the best-buy Meta Quest 2 accessories of all time. The lightweight design ensures comfort, while the quick-charging feature results in minimal downtime.
4. Hard Carrying Case For VR Headset
Ultra-sleek look and coverage for easy transport
Meticulously designed for a snug fit
Robust protection against bumps, drops, and scratches
Rugged and durable construction
Impact-resistant materials for added durability

Now, your kids can be carefree while carrying their VR headsets to their favorite locations. The hard-carrying case comes with an ultra-sleek look and coverage.
This rugged and durable case is meticulously designed to fit your VR headset snugly, providing robust protection against bumps, drops, and scratches. The tough exterior shell is reinforced with impact-resistant materials, ensuring your headset remains in pristine condition during travel or storage.
5. 16 Ft Charging Cable For Quest 2
Charge Quest 2 while playing or extend the play area
Generous 16-foot length for freedom of movement
High-quality construction for fast, reliable charging
Ensures smooth and responsive gameplay
This remarkable cable is designed to provide both power and data transfer, allowing your kid to charge their Quest 2 while playing or extend your play area for maximum freedom of movement.
With its generous 16-foot length, you'll have ample room to explore the virtual world without the constraints of a short cable. The high-quality construction ensures fast and reliable charging, while data transfer capabilities keep your gameplay smooth and responsive.
Its compatibility with Quest 2 makes it an essential accessory for VR enthusiasts. Whether your kids are immersed in intense gaming or simply need an extended charging reach, the 16 ft Charging Link Cable for Quest 2 is your reliable companion, ensuring that your virtual adventures are never cut short. Say goodbye to interruptions and hello to uninterrupted VR fun!
Best Meta Quest 2 Games For Kids
Virtual Reality (VR) games made for kids are packed with exciting experiences that are not just super fun but also full of learning. There are VR games for kids of all ages and interests, offering endless hours of joy and discovery. Here's a fantastic lineup of kid-friendly VR games:
1. Beat Saber
In this game, your kid is a musical Jedi, wielding lightsabers to slice through blocks in perfect rhythm. It's like dancing and battling combined for an energetic and immersive experience.
2. Tilt Brush
It's just like stepping into a virtual art studio where you can paint and sculpt in 3D. It's like having magical brushes to create colorful masterpieces.
3. The Curious Tale of the Stolen Pets
It's all about joining a heartwarming adventure to solve the mystery of missing pets across tiny, enchanting worlds. It's all about storytelling, exploration, and solving puzzles.
Many other games are available to enhance the VR gaming experience and all these games are supported by Meta Quest 2. You can buy Meta Quest 2 accessories from Syntech.
Your Kids Need It
Meta Quest 2 accessories are going to phenomenally revamp the VR gameplay. Many people are searching for 'Meta Quest 2 Accessories Near Me'. If you're among those seeking quality, look no further than Syntech for premium products. Your kids will truly delight in VR gaming with us.