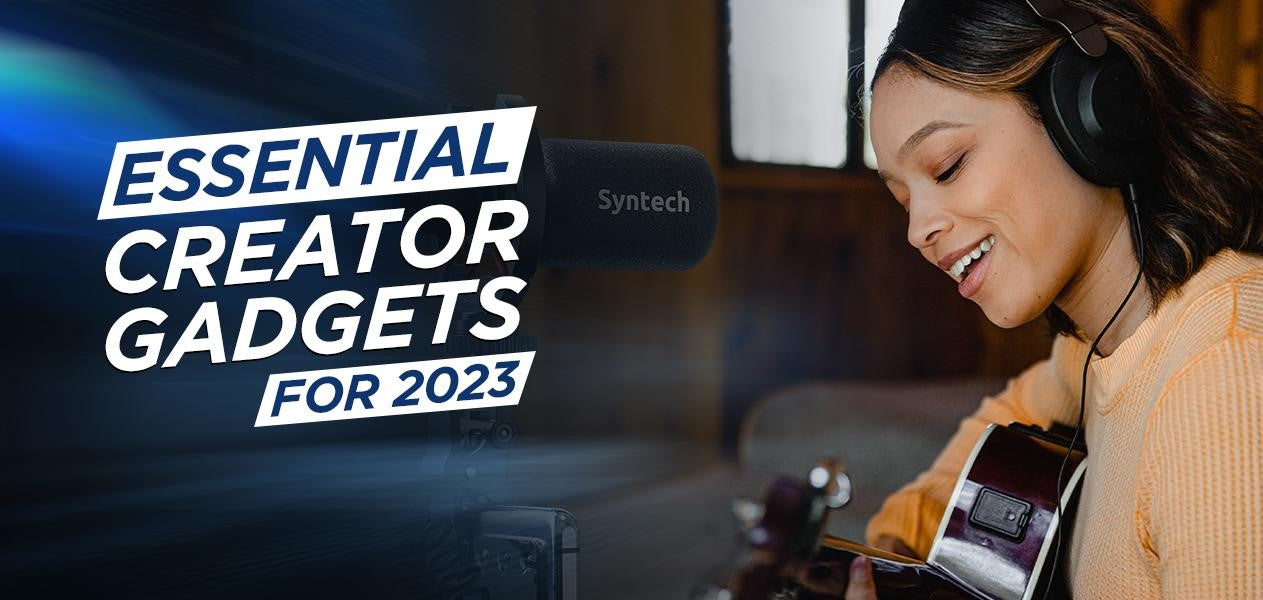 Essential Creator Gadgets for 2023
"Creator gear" is like a treasure trove of fantastic tools and equipment that content creators, imaginative photographers, and adventurous videographers use to craft amazing digital material.
These incredible creator tools are like the special ingredients that add flavor to their creative concoctions. They're like loyal companions who help turn their imaginative ideas into vibrant realities, igniting a symphony of fresh ideas, productivity, and sheer brilliance in every single detail. With these amazing gadgets right at their fingertips, creators embark on a journey towards the peak of creativity, taking their content from good to absolutely fantastic.
Let's explore today which gear is making the lives of creators easy in the following blog.
Creator Gear Essentials For Creators
Social media creators are the modern-day digital storytellers, influencers, and artists who have harnessed the power of platforms like Instagram, YouTube, TikTok, and more to captivate audiences, share their passions, and shape online culture. With a unique blend of creativity, charisma, and authenticity, these individuals have emerged as a force to be reckoned with in the digital realm, wielding the ability to inspire, educate, entertain, and even drive societal change.
They have redefined the way we consume content, bridging the gap between creators and consumers to create a vibrant and ever-evolving online community. In this era of connectivity, social media creators have become cultural icons, and their impact extends far beyond the screen, influencing trends, opinions, and behaviors in the real world.
To make online content creation affordable and profitable, creators always seek affordable creator gear. We are here to introduce you to high-quality creator gear for 2023.
Must-Have Creator Gear By Syntech Home
1. ClickLight Multipurpose Portable Selfie Light
Introducing the Syntech ClickLight, a versatile 3-in-1 multifunctional tool designed with content creators in mind. This innovative device combines a phone LED light, a soft diffuser, and a portable mirror into one sleek package. Whether you're capturing objects, taking selfies, live streaming, doing makeup tutorials, or engaging in various creative scenarios, ClickLight is your perfect companion.
● Adjustable Light Modes
One standout feature of the ClickLight is its adjustable light modes, offering three distinct options: bright white, natural, and warm yellow. With 10 levels of brightness control and a high CRI of ≥95, you can effortlessly create different lighting atmospheres to achieve the ideal shooting experience. The color temperature range spans from 2500K to 9000K (±200K), ensuring versatile lighting options.
● UV Modification Technology
The ClickLight diffuser has been upgraded with UV modification technology, effectively eliminating hard shadows, softening dark areas, and reducing glare. Its non-slip and wear-resistant side texture design makes it perfect for handheld fill light shooting, catering to the needs of long-time content creators.
● Portability
Not only does the ClickLight deliver functionality, but it also boasts a stylish and portable design. It breaks away from traditional aesthetics with creative hand-drawn elements and includes a convenient built-in mirror. Its compact and lightweight build easily fits into purses and pockets, making it a fashionable and travel-friendly accessory.
● Versatile in Nature
Versatility is key with the ClickLight, as it's compatible with a wide range of devices, including mobile phones, tablets, and laptops. The adjustable phone light clip ensures optimal angle adjustment and features a silicone pad for screen protection and stability.
● Comes with a Phone Holder
Additionally, a phone holder is included for more precise focus shooting with the rear camera of your mobile phone. Moreover, the ClickLight can be easily mounted on a tripod through the 1/4" screw hole, further enhancing its adaptability.
● Rechargeable Battery
Say goodbye to the hassle of constantly changing batteries; the ClickLight high-quality creator gear comes equipped with a built-in 2000mAh rechargeable battery.
●
USB Ports
 It supports simultaneous charging and use and conveniently features common Micro USB and Type-C port inputs (Type-C charging cable included). This means you can power it up using various sources, such as computer devices, rechargeable batteries, and USB chargers, without ever worrying about running out of power during your creative endeavors.
The Syntech ClickLight is the ultimate tool for content creators looking to elevate their lighting and shooting experiences.
2. Directional Shotgun Microphone
Elevate your audio game with the Syntech Cardioid Shotgun Microphone, designed to deliver exceptional sound quality while minimizing unwanted background noise. This microphone is your go-to choice for a wide range of creative endeavors, from vlogging and creating YouTube videos to live streaming, and even conducting interviews.
● Features Noise Reduction
Despite its compact size, this microphone packs a powerful punch. We've enhanced the shock mount to significantly reduce handling and vibration noise, ensuring your audio recordings are crystal clear.
● Universal Clip Design
The universal clip design guarantees compatibility with a variety of mobile phone models, giving you the freedom to unleash your creativity on the go.
● External Charging
No need to worry about batteries - this external camera microphone effortlessly connects to most devices equipped with a 3.5mm audio jack, including cell phones, DSLRs, and camcorders. Please note that a 3.5mm Type-C or Lightning adapter is not included in the package.
● Versatile in Nature
Our microphone isn't just a tool, it's an instrument of creativity and versatility. Its sleek and compact design complements your setup and empowers you to capture professional-level audio anywhere you go. It's time to let your creativity flow and bring your projects to life with impeccable sound quality.
● A Complete Package
When you invest in the Syntech shotgun microphone, you're not just getting the microphone itself. Our package includes everything you need for exceptional audio production. The following will be included in your package: 
Directional Shotgun Mic
Shock Mount
5mm TRS Cable (for cameras)
5mm TRRS Cable (for phones)
Wind Muff
Foam Cove
Carrying Case
Leather Bag
User Manual
Our 18-month Warranty
Let's collaborate to make your audio dreams an extraordinary, harmonious reality.
Revamp Your Content Creation With Affordable Content Gear
What makes an average content creator different from a superb content creator? The talent and the best content creator gear. We at Syntech Home provide the right type of gear to meet your content creation needs at a very affordable rate.