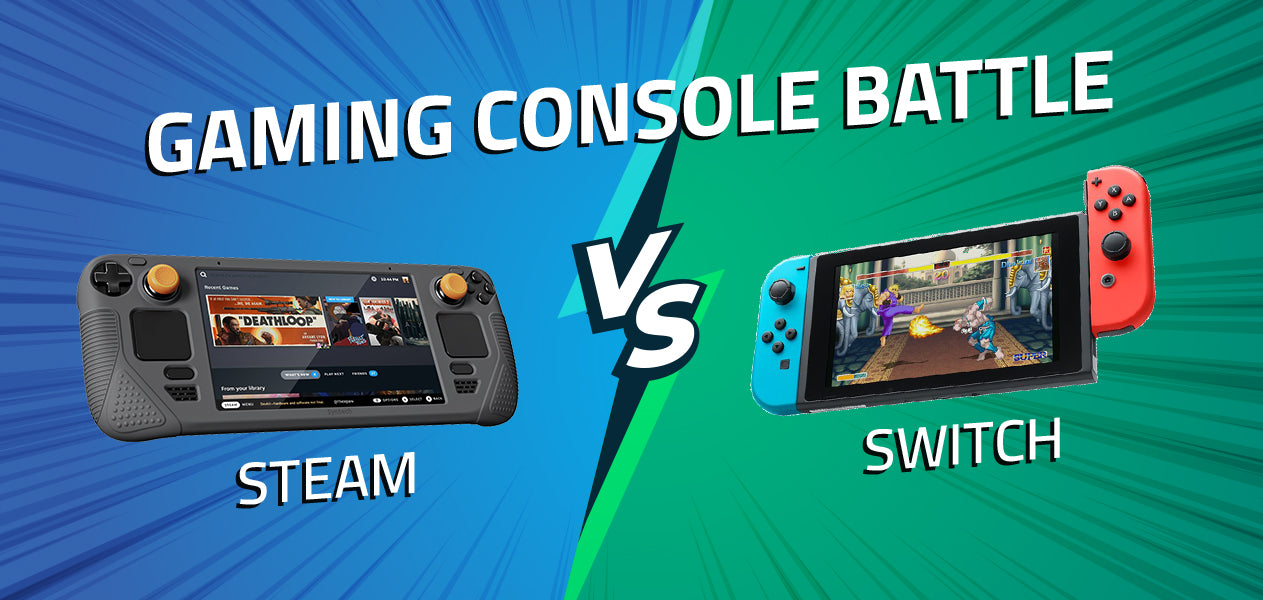 Gaming Console Showdown: Steam Deck vs. Switch
Searching for the right gaming console when on the go? The Valve Steam deck and Nintendo Switch devices are new in the market. The Steam deck versus Nintendo Switch debate is also quite the heat! 
So should you proceed to buy the Steam deck accessories you planned or switch to the new Nintendo instead of spending on Steam accessories? We have the perfect advice for you if you're facing the same confusion! So let's dive straight into it and transform your handheld gaming experience!
What is Steam Deck and What's Nintendo Switch Compared to It?
Valve's latest offering, the steam deck Valve, is a portable PC designed to bring your gaming experience even while you're out and about. Unlike traditional consoles, the steam deck Valve is a powerhouse that can deliver AAA gaming performance in a compact form factor. This is made possible by the partnership with AMD, which created a custom APU optimized for handheld gaming featuring Zen 2 + RDNA 2 architecture. The new Steam deck release date was February 25, a year ago, and the console has made gamers excited since!
In the new Steam deck release, you have access to your complete Steam library when you log into the Steam Deck, just like on any other PC. Additionally, each game has a compatibility grade that describes the gameplay experience you can anticipate. Compared to its closest rival, the Nintendo Switch, the Steam Deck is significantly more powerful. It can run the latest AAA games in an efficient power envelope, making it a gamer's dream come true.
Pricing of Steam Deck
The Steam deck's pricing strategy is a masterclass in catering to gamers' needs and budgets. The entry-level model with 64GB storage at $399 is perfect for casual gamers or those with a limited budget. The mid-tier model with 256GB storage at $529 is ideal for gamers who need more space for their games and want faster game load times. So buy a steam deck if price and quality both are your priority!
The high-end model with 512GB storage at $650 is perfect for hardcore gamers needing the fastest NVMe drives. The pricing strategy reflects Valve's understanding of the gaming community's diverse needs and preferences, making the Steam Valve deck an attractive option for gamers of all levels.
Specs and Performance - Steam Deck  
The Valve steam deck is a highly anticipated handheld gaming console that is set to rival the Nintendo Switch. Even though the Steam deck release date is late compared to the rival, it did wonders in convening gamers so quickly! The device boasts impressive specifications, including an AMD APU Zen 2 processor that can run at speeds of 2.4 to 3.5 GHz. 
One of the most exciting features of the steam deck handheld device is the storage options. Users can choose from 64GB (eMMC) to 512GB (NVMe), depending on their needs. This means that gamers will be able to download and store a large number of games on the device.
Nintendo Switch - The Latest Version
The new version of the Nintendo Switch is a game-changer in the world of gaming consoles. It is a versatile device that allows you to play your favorite games in three different play styles: TV mode, tabletop mode, and handheld mode. The console boasts a built-in screen that allows you to play on the go, making it perfect for long commutes or road trips, this might sound like a similarity to the steam deck game, but the reasons are different. 
Moreover, the Nintendo Switch connects over Wi-Fi for multiplayer gaming, and up to eight consoles can be connected for local wireless multiplayer, unlike the new Steam Deck. With its impressive features, the new version of the Nintendo Switch is a must-have for any gamer who values versatility and convenience. But if your priority is graphics, steam deck Valve is what you should go for. 
Premium Quality at Affordable Pricing 
Nintendo Switch is a gaming console that offers premium quality at an affordable price. With prices ranging from $200 to $350, it provides an economical portable solution for every type of gamer. You can also connect it to multiple devices, while the Steam deck stream from PC isn't a great option.
The Nintendo Switch Lite version is the most affordable option at $200, with a compact design and a built-in control pad. The Switch version, priced at $300, is a hybrid console that allows you to play both on the TV and as a handheld device. Now you won't get this pricing with steam deck. 
The Switch OLED version, priced at $350, is the latest addition to the Nintendo Switch family, featuring a larger and brighter OLED screen. Overall, Nintendo Switch provides a range of affordable options for gamers of all levels, making it an excellent value for money as compared to the Steam deck game.
Switch Specs And Performance
The Switch's processor is powered by Arm 4 Cortex-A57 cores clocked at 1.02 GHz and offers storage options of 32GB to 64GB (eMMC) with 4 GB LPDDR4 RAM. 
While the Steam Deck's processor is more powerful, featuring a custom AMD APU with Zen 2 and RDNA 2 architecture. The Steam Deck's visual quality is superior, but the Switch offers a more consistent battery life of 4.5 to 9 hours. 
Conclusion 
In conclusion, both devices are good for different types of gamers and offer value in their ways! At Syntech , we have a wide variety of steam deck accessories to help you scale up your gaming experience. Don't forget to check them out.