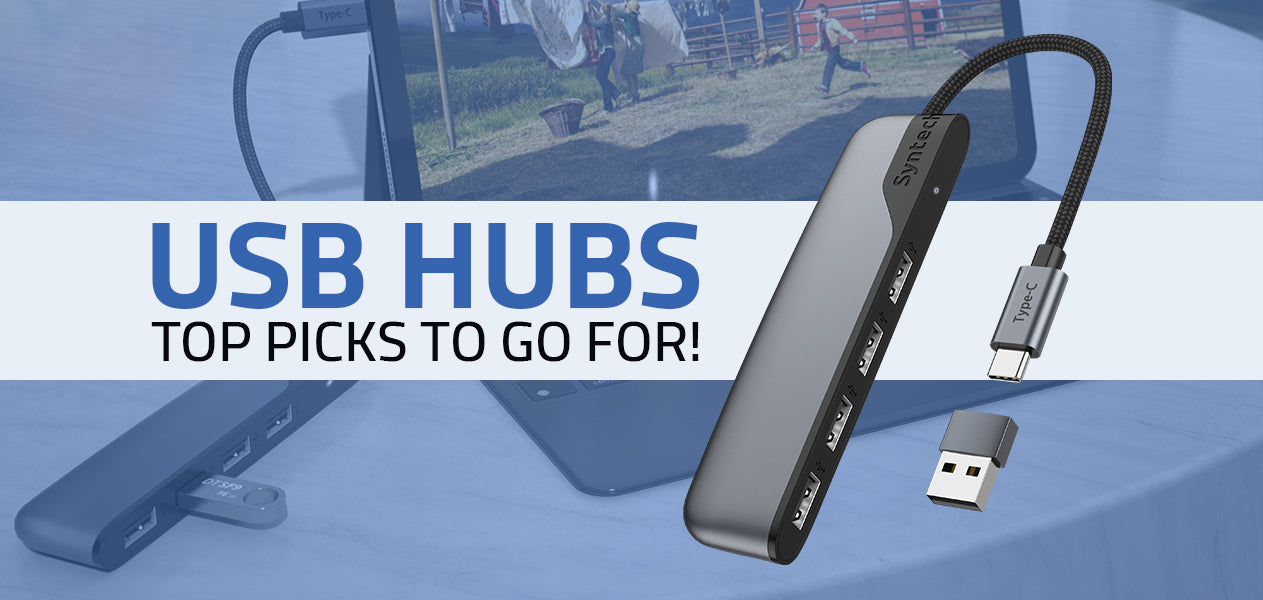 Finding the Right USB Hub for Your Devices
In today's world, technology has become an integral part of our daily lives, and with so many devices to manage, it can be a hassle to keep everything organized. This is where USB hubs come in handy. A multi-port USB hub allows you to connect multiple devices to a single port, saving space and making your workstation more efficient.
However, with so many options available in the market, it can be overwhelming to choose the right one. In this blog post, we will discuss the various functions of USB hubs, how to know if it's compatible with your device, and considerations to make before buying one. Before we start with helping you pick the best USB hub for your device, let's see why USB-C multi-port are necessary for you. 
What is a USB Hub? 
A multi-port USB hub is an accessory that increases the functions of a single port by allowing it to connect to many USBs or other device connection types.
Why Do You Need a USB Hub? 
You can get the following functions out of these devices: 
Increase the Number of Connections: The hub & adapter combination basically connects to your laptop or tablet and consequently, you have more than one free port available. With certain multi-USB C hubs & adapters, you get different connection options as well. 
Saving Space: It is just really easy to save space when you have a single multi-port USB hub & adapter. You can get one and keep your workstation clean from multiple USB splitters for laptops.  
Ability to Charge: A well-powered USB splitter or powered USB 3 hub can easily charge your cell phone and other devices. The charging speed depends on the source of power.  
Fast Data Transferring Capabilities: Whether you need to transfer a small file or a large file, the transfer will be quick. 
How to Know if Your USB Hub is Compatible with Your Device?
What is Your Port Type? 
You need to consider what type of USB ports are available for your device. If your device has USB-A or USB-C, you will need to buy a multi-USB port for a laptop with a similar port type. 
What Type of Functions do You Need? 
We can think of this in numerous ways. Do you need a powered hub that can charge your devices or would you be okay with a non-powered one? 
Other functions include the ability to fast transfer data via different USB types. Yet another function option is whether or not you want the ability to use a microSD or SD card with the USB hub. Some multi-USB connectors also have HDMI ports to view different HDMI files. 
How Many Ports do You Need?
You get to pick and choose how many ports you want in your USB Hub. You can easily find a 2-port USB hub to meet your needs just as you can find a powered USB port with 5 ports. The data transfer speed will depend on whether or not you are using a USB-C hub with a thunderbolt port. When you use a USB port with less than USB 3.0 speed port, the speed of data transfer declines from 5 Gbps. It is best if you also buy a USB hub that has USB-C 3.0 itself to help with high-speed data transfers.
Considerations Before Buying Your USB Hub for MacBook Air or Other Devices
How many functions do you hope to get out of a single hub? It is worth remembering that there are many different types of hubs available. Syntech's hubs come in various models. One model contains USB- A ports alone while another contains different types of ports including SD card, microSD card, USB, and HDMI ports. 
Compatibility with Your System
First, check whether the USB hub will function with your device's operating system. Some USB hubs might not work with Linux. See beforehand if the hub is USB 3.0 or USB 2.0. While USB 3.0 has compatibility with USB 2.0 port, the same cannot be said for USB 2.0 hub and USB 3.0 port. The power supply of the hub also matters, do you have a port that will easily supply power to the USB hub? 
Buyer Reviews About the Hub
 Finally, always consider what other users have to say about the hub. We have learned that users can provide the best insights about any given product. Syntech's USB hubs are one of the top-reviewed products available online. You can learn all about functionality, product quality, and customer service from a particular brand by simply reading reviews. 
Make Your Selection of USB Hub
There is a lot to consider before making the purchase when it comes to USB hubs. We hope that our list will help you select a USB hub that fits just right. 
Ultimately, we hope that you will also consider the manufacturer of the USB hub before buying. Syntech USB hubs have been popular amongst the crowd for all the right reasons. Our product designs and quality leave a lasting impression. If you find yourself looking for a reliable USB hub, do check out our website to learn about some great options.