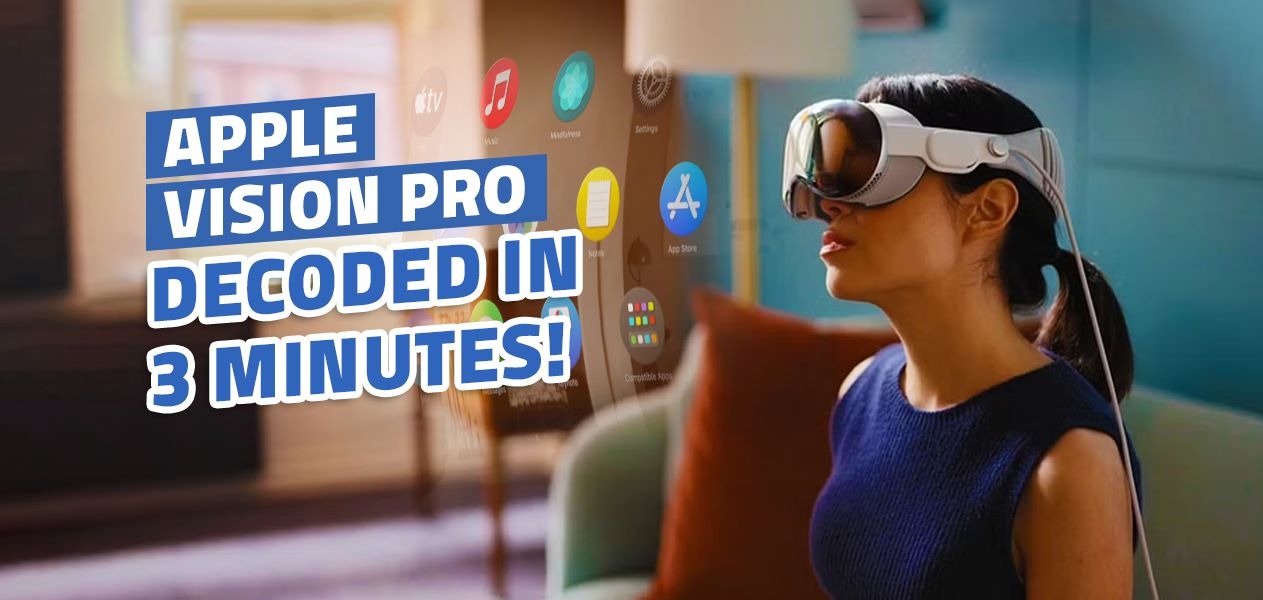 Apple AR: Everything We Know So Far About Vision Pro
The Apple VR is a much-anticipated addition to the VR world. However, let's be fair to every virtual reality gamer out there, we expected a gaming headset. On the announcement of the, we received an entirely different product.
Unlike the ever-popular headsets like Quest and PSVR, Apple AR is a whole operating system that will make a user's VR dreams come true. Apple AR will allow you to work in AR, something that wasn't entirely possible in other headsets. This has previously been absent in other VR headsets purely because they were focusing on gaming rather than day-to-day usage.
Here's What We Know About Apple AR Headset
At this point, it is worth mentioning that we have all been speculating about iPhone AR for a long time. People thought it was going to have different functions. However, the Apple showcase changed everything. We are getting something completely different. The Apple Vision Pro will retail for around $3500 for a basic headset and will have an original look, functions, and quality. Read on to see if the Apple Vision Pro price is justified. 
What does the Apple AR Headset Comprise?
Reportedly the Apple AR headset weighs less than a pound. The frame is made of a special aluminum alloy that borders the curved glass panel of the headset.  We've seen visuals of the headset with a dongle attached to the headset via a cable. Turns out that the dongle is a battery pack for the headset. This battery pack will power up your Apple AR product for around 2 hours. The Vision Pro users can also directly plug the device into an outlet. 
Another thing that you should remember about Apple's new headset? 
This headset doesn't come with controllers. 
How do you Control this AR Headset from Mac Creators?
This might be the best AR headset because of its amazing eye-tracking and hand-tracking technology. There is also control via voice but that's not as impressive as eye control.
You can open up applications in Apple's visionOS simply by looking at them. The eye-tracking ability is something that VR users dreamed of in Quest 3.  The infrared lights inside the headset form a grid on your eye that tracks the movement of your eyes. Apple is calling its AR technology spatial computing for a good reason. The hand and eye tracking are something else in this marvel from Apple. The sensors in this headset will track the many different movements of your hands.
The Apple AR device will also store your unique eye lens configuration and only unlock it for you. Apple is saying that this information will be only stored locally on the Apple Vision Pro headset and won't be moved to the cloud storage. Optic ID are the future in the VR world and we cannot wait for them!
The Appearance of Apple Vision Pro
The AR headset by Apple appears like a ski mask. The front of the ski-shaped goggles is covered by a continuous panel of glass. This panel has another function of protecting the cooling fan. This cooling fan helps keep the Apple Vision Pro hardware cool so that it can function smoothly. We are also getting a light seal that will ensure that light is unable to enter our visual space. 
The back of the headset comprises an adjustable strap. According to a few reports, this band will be easily removable. This will give room for future Apple Vision Pro head straps. You can also fix a prescription lens according to your eyesight into the display of the headset. Apple has partnered with Zeiss for magnetic lenses.  
What is Apple AR Headset's Processor? 
We are getting something that will easily run with all the Apple applications. The visionOS is the talk of the town. The Apple AR set will work this headset through two Apple silicone chips including M2 Ultra and R1.  With the M2 Ultra chip, the Apple headset will be able to show the best graphics and run its computing functions. On the other hand, the R1 chip will work to understand and process the data received from different sensors, microphones, and cameras. 
The Different Layers of the Apple Vision Pro's Structure
What Apple truly excels at, is making sure that the bar is raised and Apple Vision Pro has done just that even when it comes to display. The display takes most of the power from the battery pack. There is a reason for this drain, Apple has two high-powered lenses. One pair of Apple's Vision Pro lenses both give a display of 23 million pixels per eye. Another pair of lenses in this AR headset is to ensure that the UI stays in the 3D view. There are other functions to these lenses as well, including wide color and HDR that ensures you get the best visual experience. 
The User Interface of the Apple Vision Pro is Dynamic 
From all the videos and demonstrations, we can see that the application icons will appear differently in this Apple iPhone-compatible AR headset. They have made sure that the light from the surroundings will affect the appearance of the icons by making them stand out. It helps that there is a lens to make icons stand out in 3D. This is certainly going to help the user easily manipulate through eye tracking. 
The EyeSight feature will allow you to view the world via the lenses of Apple Vision Pro. Your headset will show others when you're free and when you're busy using the headset by changing its appearance. 
Apple Camera Makes a Different Kind of Comeback! 
So we all agree that over the years, Apple's device cameras have gotten better and more phenomenal. With Apple Vision Pro, the camera experience has gotten even better. This device will allow you to capture spatial images and spatial videos. It will go a step further by making sure that the audio is spatially correct as well. You will be able to relive your moments as if they were just happening. 
What More Do We Hope to See from the iPhone AR Headset? 
Much like the Quest series, we wish this headset had more gaming-related uses. We might be able to play a lot of the already available games for iPhone but an actual VR gaming experience is just out of reach at present. 
However, a physically active gaming experience would lead to sweating and do we want to sweat on this Apple Vision Pro headset that's worth $3500? 
Would You Make This Huge Apple Purchase in 2024?
If it were up to us, we'd have this headset in our hands yesterday. The Apple Vision Pro price is going to be a massive hindrance against mass buying of this amazing product. However, we are sure that committed fans of the brand would have this in their hands one way or another. 
We don't know what we love more about this headset, the display, the applications, or the design. Everything is amazing and with so many developers working with Apple for this headset, we will soon see some amazing dedicated applications. There is hope that Apple will also release a comparable model soon at pocket-friendly prices as well. Till then, let's see what more Apple can bring to life.
If you already have your feet in virtual reality, don't forget to check out  Quest 2 accessory line.