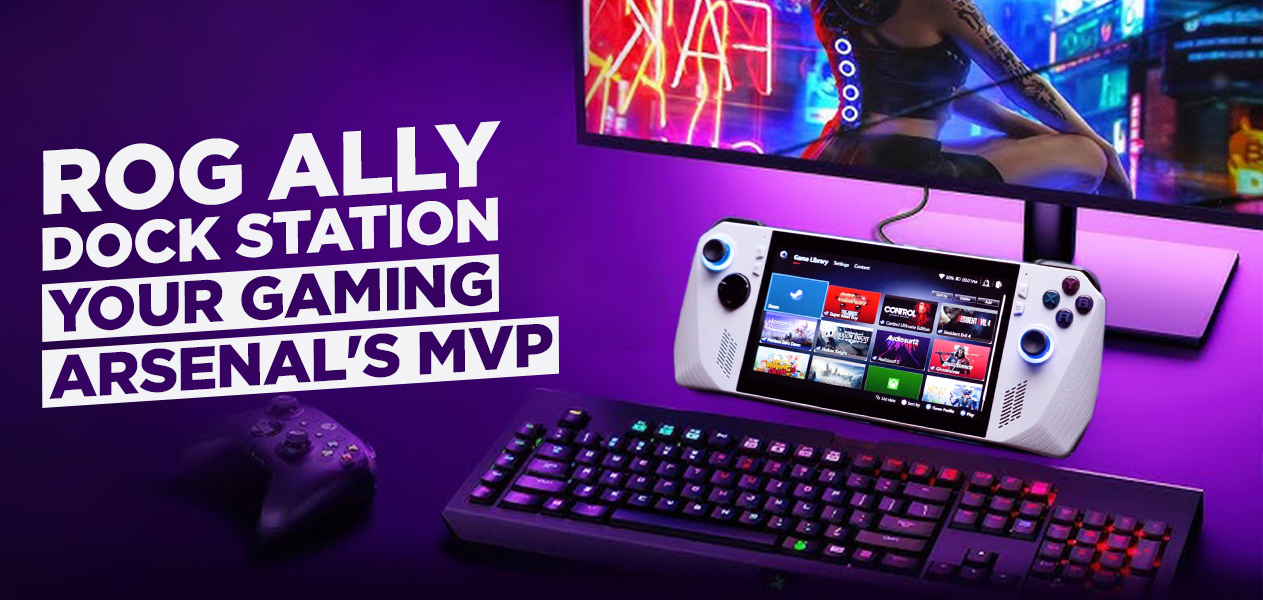 ROG Ally Dock Station: Your Gaming Arsenal's MVP
Own a ROG Ally? Every ROG Ally user understands the importance of gaming accessories and how they can take your gaming experience to the next level. That's where our docking station comes in.
Our 6-in-1 Multifunctional Docking Station is packed with features that will add tremendous value to your gaming setup. Whether you're playing by yourself or with friends, this docking station provides the essential support for an incredible gaming experience.
It's the perfect companion for your ROG Ally, ensuring seamless connectivity and enhancing your game play. Well, you need to get your hands on our Multi-functional Docking Station.
What's new with the Multi-functional Docking Station for ROG Ally?
Credit: Syntech
This docking station departs from the traditional designs found in the market. The following are some features that make it unique:
The shape has been transformed from the square hub to a more modern round dock, specifically designed for the ROG Ally. This makes it less bulky and much more stable.
You can also use the ROG Ally Docking Station for multiple devices because its shape provides increased port spaces. Among these, there is an HDMI port to enhance video quality alongside several USB ports.
This Docking Station comes with PD charging for efficient gaming and the elimination of the hassle of long charging times.
It is also compatible with multiple devices, including monitors, controllers, and peripherals. This compatibility is further enhanced by the presence of a smart chip that facilitates connections between the docking station and Type-C devices such as laptops, iPads, and phones.
How Does the Docking Station Improve Your Gaming Set Up?
       Credit: Syntech
The first advantage of acquiring a Multifunctional Docking Station is its versatile shape. This accessory can be easily placed anywhere, eliminating the need to make room for a bulky device.
Additionally, having a ROG Ally Docking Station with multiple ports is beneficial because it enables you to maintain a neat and tangle-free gaming setup. You can utilize the multiple ports to connect the devices of your choice.
Moreover, you can employ the ROG Ally Docking Station for laptops, eliminating the need for a separate space for your gaming equipment and other technology, as both can be used simultaneously.
Simplify Your Life with Rog Ally Docking Station's Tech Features
The set-up advantages are great but the following are some exciting features added to the docking station that might make your life slightly easier:
Cooling and Heat Dissipation Mechanisms
The most important addition is the enhanced cooling and heat dissipation mechanisms which prevent the system from heating up. It is very common for devices to overheat when they are used for long periods. This new feature helps in making sure that such an issue doesn't occur by keeping the system cool.
Easily Supports Multiple Devices
Now you can use the docking station for multiple devices and it will not heat up. Use the ROG Ally Docking Station for tablets or use it for smartphones, all devices will remain cool and will be safe.
Use the Rog Ally Docking Station for Multiplayer Gaming
Setting up multiplayer setups for gaming is usually very complicated but with the Rog Ally Docking Station, you can easily play with your friends. All you have to do is plug in your Rog Ally to the docking station and start streaming the multiplayer game. You can view a ROG Ally Docking Station tutorial for a better understanding of how to put this together.
Just like you can use the ROG Ally Docking Station for smartphones, it is also possible to connect this docking station to peripherals and play with multiple players at a time, for hours on end.       
Rog Ally Docking Station Values Your Time and Your Patience
If we make a ROG Ally Docking Station comparison with other similar products in the market, we can easily identify that the former has improved ports, high-quality video input, and an easy-to-use design.
However, some extra features are of value but are overlooked in the reviewing process. These are the swift download speeds along with the fast charging and data transfers that the Rog Ally Docking Station allows.
You no longer have to worry about the extensive time required to charge the device or the download speed. The Rog Ally Docking Station helps you save time and not lose your sanity in the process.
The Rog Ally Docking Station Combines Premium Quality With an Unbeatable Price
When it comes to enhancing your device's functionality, the ROG Ally Docking Station is not only feature-packed but also budget-friendly. Compared to similar models on the market, it boasts a competitive price tag of just $42.99, making it an attractive choice for anyone seeking a reliable docking station without breaking the bank.
The affordability of the ROG Ally Docking Station ensures that you not only meet your device expansion needs but also do so without straining your budget. It's an excellent investment that provides exceptional value for your money, allowing you to maximize the utility of your device without compromising your financial peace of mind. Upgrade your setup without the hefty price tag – choose the ROG Ally Docking Station today.
Investing in the ROG Ally Docking Station not only grants you access to its impressive features but also allows you to do so without breaking the bank. Don't miss out on this cost-effective solution to enhance your gaming and device connectivity experience!
Why is the Multifunctional Docking Station the Best Pick for You?
Unlock the Ultimate Gaming Experience with the ROG Ally Docking Station! If you're looking for a docking station that boasts exceptional design, a wide array of input options, and delivers an unparalleled gaming experience, then the Multifunctional Docking Station is the one for you.
For an unbeatable price, gain access to the latest user-friendly features. This ensures that your devices, whether it's your laptop, gaming console, or other peripherals, work together seamlessly to enhance your gaming sessions. The Multi-functional Docking Station is also fully compatible with the Steam Deck, further expanding your gaming horizons.
Whether you're into competitive esports or immersive single-player adventures, the Multifunctional Docking Station can take your gaming experience to the next level. With the added compatibility with the Steam Deck, you can now enjoy your favorite PC games on the go with exceptional performance and convenience.
Don't miss out on the opportunity to transform your setup and elevate your gameplay. Don't miss out on the ROG Ally Docking Station – it's your ticket to an enhanced gaming experience that's now even more versatile with Steam Deck compatibility!"