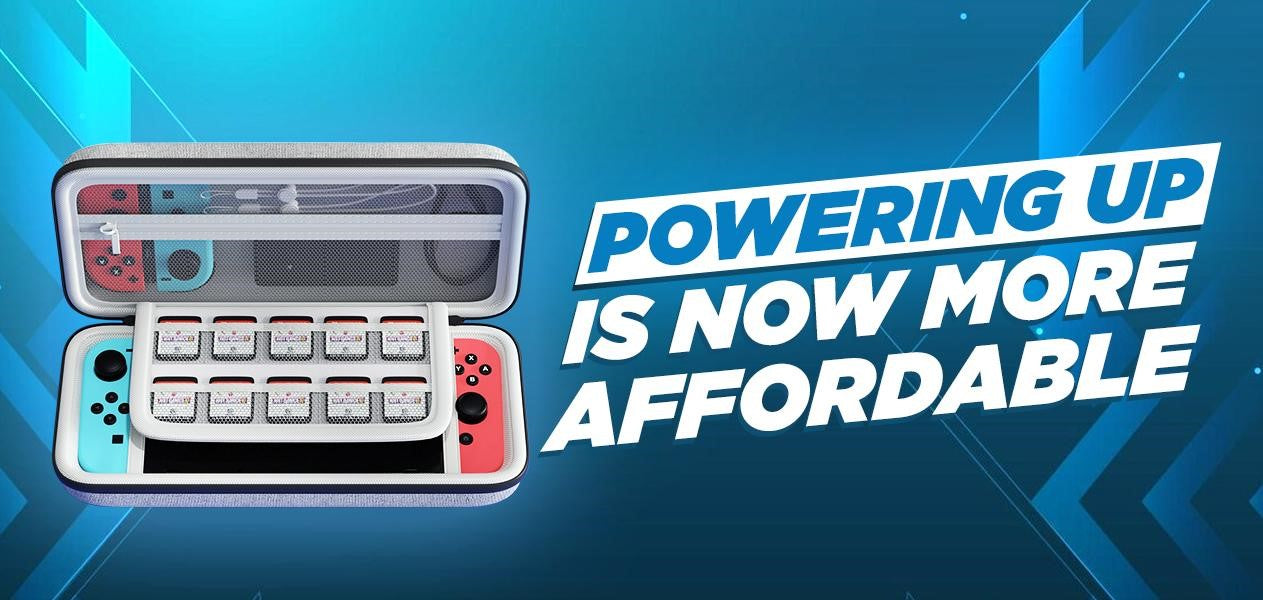 Discover the Hottest Sale for Nintendo Switch Accessories
In gaming, very few devices have survived the popularity rush and maintained it even after a long time. The Nintendo Switch is one of them. It contains hardware consisting of a hybrid design that provides gamers versatility in their gaming experience. Alongside this, over the years, a whole line of accessories has been introduced for this gaming console.

Avail the opportunity to get your Nintendo Switch Accessories from Syntech. Syntech is offering a Nintendo Switch Sale for Black Friday and Cyber Monday, a time when deal hunters and gaming aficionados meet to agree on a deal.
What's so Special About the Nintendo Switch?
Let's explore some features of the Nintendo Switch that separates it from other gaming devices:
Display screen and detachable joysticks 
TV or docked mode? This is a common question among Nintendo Switch friends. Nintendo Switch is a creative device that you can use handheld or connect to a television for a large screen. You can even place the console on a table, separate the joy controllers, and play remotely.
Affordable and Portable device
The size of a Nintendo Switch Lite is smaller and lighter. It has lightweight features along with a strong, durable body and can withstand maximum pressure. Yes, there are some shortcomings; for example, you cannot connect it to your TV Because there is no HDMI input, and its controllers cannot be separated. However, it is cheaper than the standard model.
Extensive game library
You can buy Nintendo games for more affordable rates as opposed to other gaming consoles. Avail the chance to own and play multiple games with your friends using the Nintendo Switch Cyber Monday event. There are two types of games that you can get for this console:

Nintendo Switch has introduced self-made games for users to enjoy something they will not witness anywhere else. It is the only console where you can play Mario games as well as other popular games including the Legend of Zelda series, Pokemon, and Animal Crossing.

Along with the original games, some famous non-Nintendo games are also given appreciation. Games like Hogwarts Legacy, Diablo iii, and Witchers 3 are hardcore satisfied games you will find on a Nintendo Switch. Fortnite, Alex Legends, Rocket League, and Fall Guys are some of the most popular free games offered by Nintendo Switch.
Prospects of the Nintendo Switch  
Even though the Nintendo Switch has been in the market for six years, it has still not shown signs of slowing down. With constant changes and improvements, it is liked by the majority. Nintendo is not abandoning the switch for a long time and would make it safer to buy it since many more improvements and innovations will come.

Through these six years, several accessories have been created to elevate the gaming experience for Nintendo Switch users. These not only make the experience more immersive but also allow users to comfortably play and even travel with their Nintendo Switch. The most important of these is its accessories.
Nintendo Switch Portable Carrying Case
Syntech especially contains slim carry cases for both switch and OLED switch as Nintendo accessories. It is a container to keep your switch safe and harm-free when traveling or storing it.
This case forms a protective shield against water, scratches, and pressure. It contains a luxurious velvet lining that provides extra protection to the switch if it bounces inside the container; the walls don't damage it.

The case has an organized structure with elastic wrap and mesh compartments to keep the switch or other accessories safe and it also prevents them from moving inside the case. This provides a more compact and organized look and accounts for fashionable features as well. The cases are available in multiple colors to choose from.

During the Black Friday Cyber Monday Sale, Nintendo Switch accessories are cheaper and more convenient to buy. You can get amazing Nintendo Switch Cyber Monday deals and a cheap prize. You can get Nintendo Switch accessories offered by Syntech, such as the OLED case. They will be a perfect addition to your gaming accessory while providing absolute protection.
Switch Black Friday Cyber Monday Sale
Are you looking for cheap accessories for Nintendo Switch accessories? Well, look no further because the Nintendo Switch Black Friday Cyber Monday Sale brings you amazing deals, cut prices, and package discounts on your Nintendo Switch accessories.
Avail the chance to get the incredible Cyber Monday Nintendo Switch deals by retailers to give access to as many users as possible. You can get stuff like the slim carry case provided by Syntech just one click away. Look forward to this special event that will surely win every gamer's dream.
Conclusion
When buying a Nintendo Switch, you need to keep a few things in mind. If you're a Nintendo fan, then this device should be a must-buy for you. Since this device is portable, keep your best accessories such as the Portable Carrying Case at hand to enjoy your gaming time alone, anywhere, or with your friends.
To fulfill this, take advantage of the Black Friday Cyber Monday Sale and get your hands on the best case for your Switch at the most affordable price!