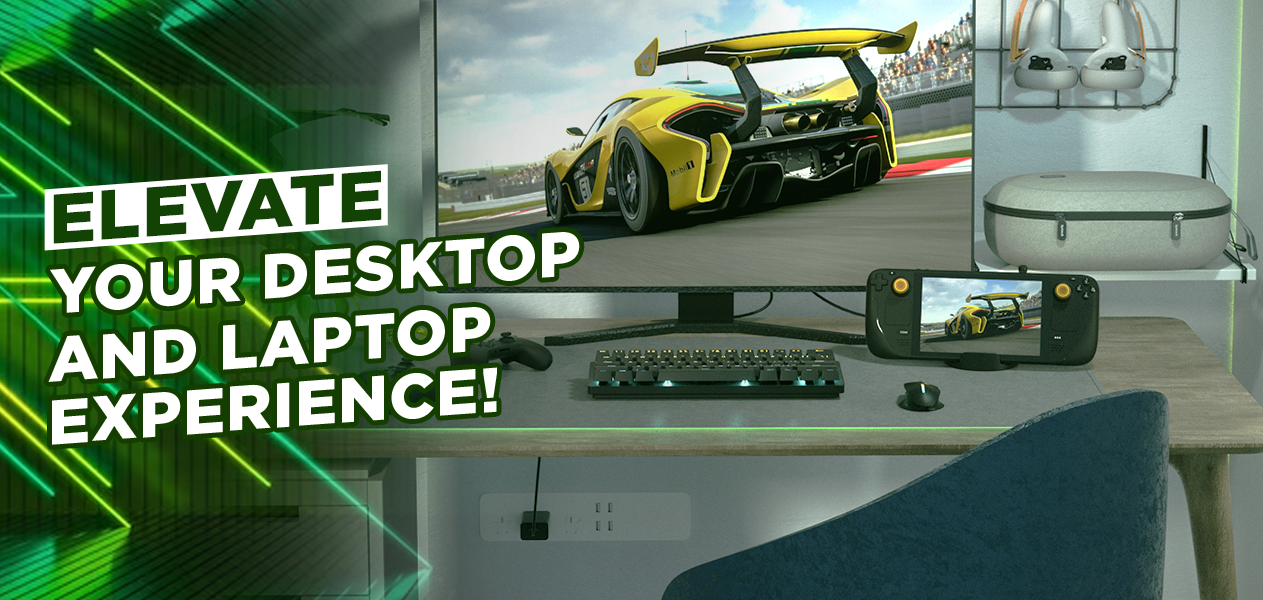 Boost Your Productivity with Syntech's Docking Station
Are you sick of having cables all over your desk? Do you yearn for a hassle-free way to smoothly switch between your laptop and desktop? There is no need to worry anymore because Syntech has the answer you've been looking for. 
In this blog post, we'll introduce the best docking station for a gaming laptop to you and discuss what a docking station does for a laptop. This device and its accessories are made to improve your gaming experience. So, are you ready to check out our docking station for laptops and desktops, revamp your gaming adventure, and boost your productivity? Let's get right into it!
Features of Syntech's All-in-One Docking Station for Laptop
● Mini Round Base Design 
Syntech is aware of how crucial it is to have a solid docking solution. As a result, they built the best docking station for gaming laptops that were made specifically for Asus ROG Ally and Valve Steam Deck accessories. This unique dock provides stability as well as solid support. 
Its unique, rounded design allows more space between ports and makes managing your wires easier. Your workstation won't be a tangled mess anymore! 
With a 20% lower size and a 57% shorter shape, this little docking station for desktops and laptops is also very portable. When traveling, it is simple to throw it into your bag. Additionally, it is made to keep your electronics cool, even during extended gaming sessions.
● Versatility Unleashed with the 6-in-1 Multifunctional Docking Station 
Syntech's all-in-one docking station for laptops, with its extensive capabilities, surpasses the limitations of conventional docking stations.
Its 6-in-1 feature includes Gigabit Ethernet for blazing-fast and reliable network connections and HDMI 2.0 capability for excellent visual output. An in-depth discussion is conducted on the addition of full-speed USB-C 3.0 connectors for quick device charging and USB-A 3.0 ports for accessory connectivity.
● Improve Your Gaming Setup
For all the gamers out there, Syntech's docking station for laptops and desktops is your passport to gaming heaven. Consider building a gaming environment that is entirely unique to you by seamlessly connecting your handheld consoles to various screens, controllers, and other gaming equipment. However, there's still more! 
This is the best docking station for gaming laptops because it enables a 30W Turbo Mode for ROG Ally, guaranteeing that your gaming monster is always charged and prepared for epic battles. Your gaming setup will be as legendary as your talents if Syntech is by your side.
● A Smarter Chip for Improved Compatibility 
The foundation of Syntech's design philosophy is compatibility. Here, we examine the smart chip incorporated into the USB C hub. This guarantees seamless interaction with a variety of Type-C devices. 
It is important to note that while it supports iPads, phones, tablets, laptops, and other portable consoles with ease, it is incompatible with AYA NEO consoles.
● Unparalleled Performance and Quality 
In our docking station for desktops and laptops, performance and quality cannot be compromised. We'll look at how our all-in-one docking station for laptops was built using recyclable ABS+PC material to combine strength and lightness. 
Additionally, the two anti-slip thumb grips for better game control demonstrate Syntech's dedication to providing an unmatched gaming experience.
Benefits
● Streamlined Productivity
Multitasking is redefined by Syntech's Docking station for two laptops. Utilize your laptop or desktop to connect numerous monitors and accessories easily to expedite tasks and boost productivity.
● Gaming Unleashed
Syntech's all-in-one docking station for laptops will make gamers happy. Connect gaming consoles to various monitors and peripherals to upgrade your gaming setup and create an immersive gaming environment.
● Travel-Friendly
Our best docking station for gaming laptops is portable because of its small size. Because of its reduced size, you can easily carry it in any bag when working or playing on the go.
● Universal Compatibility
The clever chip in Syntech's Docking Wonders ensures compatibility with a variety of Type-C devices, including laptops, tablets, and portable gaming consoles. Because of its adaptability, you can use it on a variety of devices.
● Lightweight and Durable
Syntech's docking stations for laptops and desktops are made of recyclable ABS+PC material and are both strong and light. Their sturdy construction guarantees enduring performance, and their lightweight design facilitates transportation.
● Improved Gaming Control
Syntech's docking station for desktop and laptop offers better game control thanks to its anti-slip thumb grips. Precision and accuracy are what gamers can anticipate, providing them with a competitive advantage.
● Easy Cable Management
No more tangled connections with easy cable management. The small round base shape makes it easier to manage cables, keeping your workstation tidy and organized.
● Versatile Connectivity
The 6-in-1 multifunctional all-in-one docking station for laptops offers a variety of connectivity options, including gigabit Ethernet, USB ports, and high-resolution video output. This adaptability meets a variety of computing needs.
● Charging Convenience
Convenient charging is provided with the best docking station for gaming laptops, which have a full-speed USB-C 3.0 port. Instead of using several chargers, you can easily charge your gadgets.
● Design Innovation
The inventive spherical base assures stability while offering a distinctive look. Among docking solutions, this design innovation is unique.
● Effective Heat Dissipation
Syntech's all-in-one docking station for laptops has gentle curves that help with effective heat dissipation in addition to improving stability. Your devices will stay cool throughout prolonged use thanks to this design element, increasing their longevity.
● Seamless Presentations
Professionals may make seamless presentations using Syntech's docking station for laptops and desktops. Connect to projectors or big screens easily to improve the impact and engagement of your presentations.
● Plug-and-Play Ease
Syntech's docking station for desktop and laptop don't need any complicated configurations or drivers. Because it is plug-and-play simple, you can work or play straight away without dealing with any technical difficulties.
● Options for Customization
Our all-in-one docking station for laptops offers options for customizing your setup to suit your needs. To meet your specific demands, adjust displays, peripherals, and connections.
● Eco-friendly
Our docking station for laptops and desktops has recyclable materials as part of Syntech's commitment to sustainability. By selecting these docking stations, you not only benefit yourself but also the environment. 
The long-range advantages offered by Syntech's Docking Wonders never cease to impress. These added benefits strengthen their status as top-tier docking solutions, making them desirable to a variety of users across different industries.
Syntech Can Improve Your Computing Experience 
Syntech's Docking Wonders represent a substantial advancement in docking technology. These docking solutions cater to both professionals and gamers because of their emphasis on stability, versatility, compatibility, and quality. 
Say goodbye to cable clutter and sporadic connectivity; Syntech's all-in-one docking station for laptops will help your gadgets reach their full potential. So what are you waiting for? Come up and Improve your computational abilities right now.