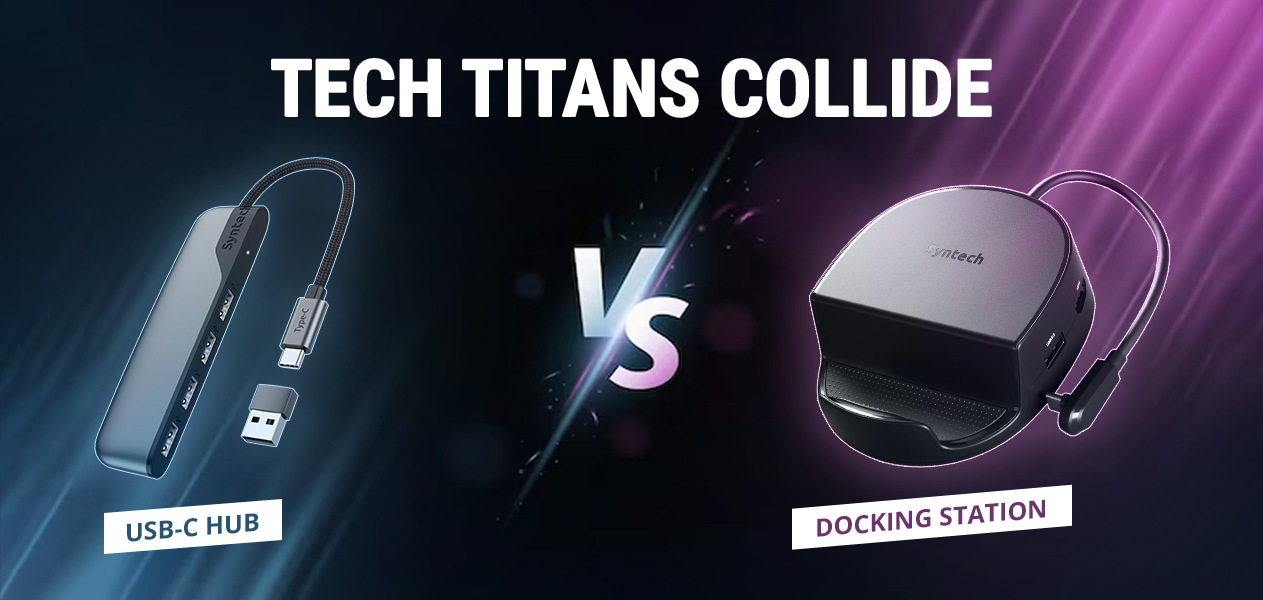 Digital Battle: USB-C Hub Vs Docking Station Showdown
Did you know that USB-C hubs and Docking Stations have become two titans in the realm of digital connectivity, competing for domination to improve our digital experiences? Whether you're a tech enthusiast, a professional, or somewhere in between, it's critical to comprehend the distinctions between these two essential accessories.

Join us as we discuss the USB C Hub vs Docking Station, comparing their features, capabilities, and potential applications.
Comparing the Features
Are you confused between Dock vs Hub? Let's have a close look at their features to make your decision wisely.
1.

Connectivity and Speed
The USB-C Hub and Docking Station both have distinct advantages in terms of connectivity and speed:
USB-C Hub

When it comes to data transfer speed in the USB C Hub vs Docking Station battle, the former stands out. It offers lightning-fast data transfer speeds up to 5Gbps, which is 10 times faster than USB 2.0. This improves your overall computing experience by enabling quick file transfers, media streaming, and peripheral connections.

With the USB-C Hub, simplicity dominates. It is simple to plug in and use, making it usable by individuals of all backgrounds. You can use it right away. There is no need for detailed setups or software installations.

Although it isn't advised to use the USB-C Hub for charging phones or tablets, it comes with a useful converter. Converting the hub into a USB-A hub enables fast charging at 5V/3A or 9V/2A.

Compatible for Multiple Devices



A wide range of devices, including the MacBook, iPad, Google Pixelbook, Dell XPS, Samsung Galaxy, and more, are compatible with the USB-C Hub. It adds value to your tech arsenal due to its adaptability.
Docking Station

The Docking Station, like a USB C Hub, offers amazing data transfer speeds of up to 5Gbps, which is ten times quicker than USB 2.0. You may easily connect to and use a variety of peripherals thanks to this quick data transmission.

Both gadgets share the ability to be user-friendly. The Docking Station doesn't require complicated setups or software installations because it is designed for simple plug-and-play usage.

When it comes to the Docking Station vs USB C Hub. The Docking Station provides a 6-in-1 option with a full-speed USB-C 3.0 connector for charging. As a result, you can conveniently charge your gadgets and take advantage of increased connectivity.

The Docking Station was designed with gamers in mind. It enables you to connect your portable gaming consoles to several displays, game controllers, and other accessories.
2.

Convenience and Design
The differences between the USB-C Hub and Docking Station become clear when it comes to portability and design:
USB-C Hub

The USB-C Hub is portable and light, making it perfect for use while traveling. Its slim design makes it easy to fit into your purse or pocket and gives you a portable solution to increase the functionality of your smartphone. They excel perfectly in the Dock vs Hub race when design convenience is your priority.
Docking Station

By contrast, the Docking Station is designed with gamers in mind. Its mini-round base design is specifically made for attachments like the Valve Steam Deck and the Asus ROG Ally. Due to its unique design, it has a 20% smaller footprint and a 57% shorter design, which can fit easily in any bag.
3.

Multimedia Experience
The USB-C Hub and Docking Station's features will appeal to multimedia enthusiasts:
USB-C Hub
It offers many connectivity options including HDMI 2.0 capability for video output up to 4K@60Hz, 2K@120Hz, and 1080P@120Hz. It is therefore a fantastic option for individuals that require high-quality video output.
Docking Station
In the Hub vs Docking Station battle, the Docking Station catches the eye of gamers. It allows them to create an immersive gaming experience by connecting their portable consoles to a variety of monitors, controllers, and peripherals. With a charging dock, it also provides a 30W Turbo Mode for ROG Ally.
4.

Smart Chip and compatibility
It is crucial to guarantee interoperability with a range of devices. Let's see how each gadget approaches this problem:
USB-C Hub
The USB-C Hub has an integrated smart chip that improves compatibility with a wide range of Type-C devices. It can wirelessly link portable gaming consoles, iPads, phones, tablets, and laptops. Please be aware, though, that it is incompatible with AYA NEO consoles.
Docking Station
The Docking Station is more compatible with specific peripherals, including the Valve Steam Deck and the Asus ROG Ally. A flawless experience is guaranteed by the smart chip's optimization for these gaming devices.
5.

Strength and Construction Quality
When discussing Docking Station vs USB C Hub, both are made to survive regular use:
The USB-C Hub
It has a slim design, and numerous safety features, and was made with longevity in mind. It is lightweight and user-friendly while being constructed to withstand the rigors of daily use.
Docking Station

The Docking Station boasts sturdiness, durability, and a lightweight design. It is made of recyclable ABS+PC material. Two anti-slip thumb grips are also included for better game control, highlighting their appropriateness for regular gaming sessions.
USB C Hub vs Docking Station: Main Benefits
USB-C Hub

Portability:

Travel-friendly, portable, and small in size.



Simplicity:

Plug-and-play, no complicated installations required.



Effective Data Transfer:

5Gbps speeds that are swift allow for quick file transfers.



Device Compatibility:

A wide range of devices are supported by this feature.



Docking Station Benefits

Broad Connectivity:

Has multiple ports that allow multiple connections at once.



For Gamers:

Ideal for setting up an immersive gaming environment.



One-Stop Solution:

Addition of a flexible workspace and charging possibilities.



Superior Chipset:

High compatibility smart chip built-in.



Now the Choice is Yours



USB C Hub vs Docking Station, which is the right choice for you? Your decision ultimately depends on your personal needs and preferences.
The USB C Hub is a great option if mobility, flexible connectivity, and all-around compatibility are important to you. The Docking Station, on the other hand, is designed for gamers looking for an immersive gaming experience with their Valve Steam Deck or Asus ROG Ally.
Both solutions are provided by Syntech, guaranteeing that you have the resources to successfully satisfy your connectivity needs. Whichever option you choose make sure that it completely fulfills your requirements.