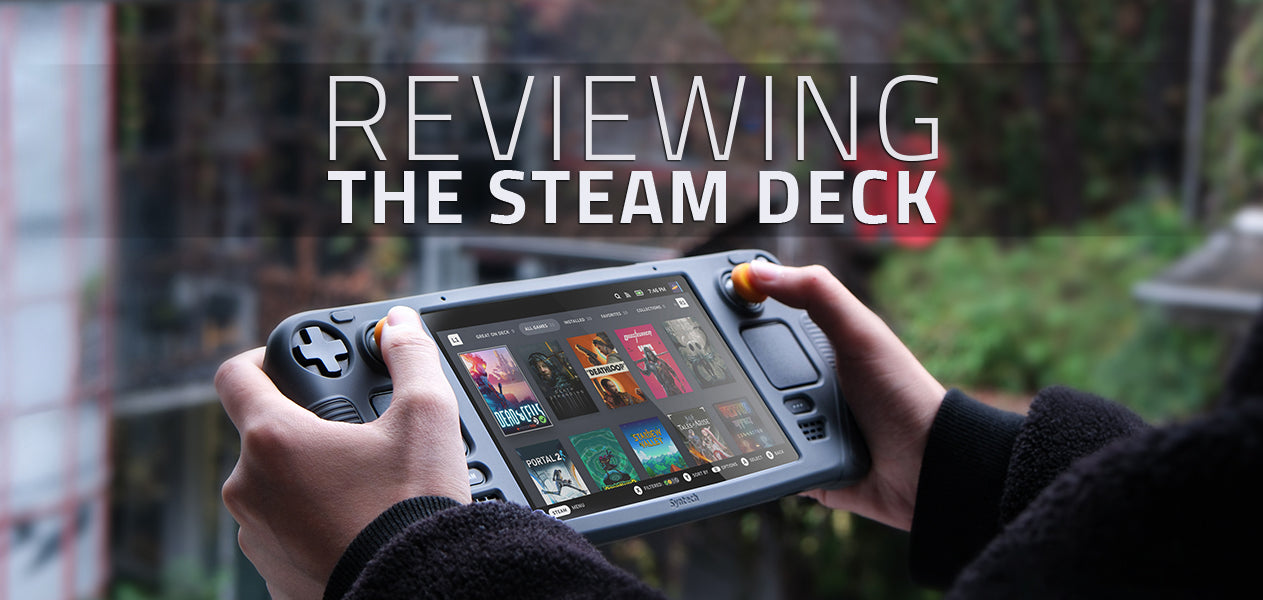 Steam Deck Review: The Ultimate Portable Gaming Machine?
The
Steam Deck
is a new handheld gaming device from Valve that has been creating a lot of buzz in the gaming community since
Steam Deck's release
in July 2021. As gaming hardware experts and people who have manufactured
Steam Deck accessories
, we've been eagerly waiting for the release of this device. Now that it has been here for a while, we're ready to finally share our thoughts on its pros and cons.
While the device is pretty new, it has a huge dedicated fan following. You only need to go visit online communities to see how everyone's using Steam Deck. From the device's display to its processing power and software, people seem to love it on all fronts. Valve has also been pretty good to the fans, providing prompt aftercare whenever requested.   
Valve's Steam Deck in Our View
Valve Steam Deck is something to behold if gaming communities are to be believed and we certainly agree. Our foray into manufacturing Steam accessories is a testament to our love for this mini gaming device. 
Specifications of the Magical Steam Deck 
Let's start with analyzing the hardware specs of the Steam Deck. Valve's Steam Deck device has a 7-inch touchscreen display with a 1280x800 resolution and is driven by an AMD APU with a Zen 2 CPU and RDNA 2 GPU. Valve Steam Deck has three available models based on the internal memory. Your Steam Deck can have either 64GB, 256GB, or 512 GB internal memory, that can be extended with a microSD card. Additionally, it has a USB-C port for charging and hooking up to external screens, a headphone jack, and internal speakers.
Controls of the Steam Deck
A remarkable feature of the Steam Deck is its control setup. It is equipped with many classic gaming controls, featuring two thumbsticks, a D-pad, four face buttons, and four shoulder buttons. Additionally, there are two touchpads in Valve Steam Deck that offer more precise cursor control or an extra pair of buttons. 
The way the controls are arranged is designed with comfort and ease of use in mind, which helps to ensure that the user can play for extended amounts of time without feeling any discomfort. When you buy Steam Deck, make sure that you use something protective like our silicone case for Steam Deck to keep the device safe. 
Software and Games on Steam Deck Handheld
The Valve Steam Deck's software is a standout component. It utilizes SteamOS 3.0 from Valve, a gaming-focused Linux distribution. Users have access to their entire Steam library of games, thanks to the preinstalled Steam client. Users can stream games from their PC or play games remotely from another device because of the device's support for both cloud gaming and remote play. 
From the time when Steam Deck's release date was announced, there was much speculation about the software. Earlier, gamers were skeptical about whether or not they'll be able to play their favorite games on the handheld. 
Controlling the Performance of Steam Deck
Steam Deck can play the majority of contemporary games at 720p and 30 fps, with some games even supporting 60 frames per second. It is important to keep in mind, though, that some games could need their graphics settings reduced in order to maintain a steady frame rate. 
Steam Deck can work better than most of the PC models out there and is considered an alternative to high-powered gaming PCs.
Linux and the Highly Multifunctional Steam Deck
Steam Deck excels in many areas due to its adaptability. It is not just for gaming, although many will continue to associate Steam Deck with games alone. It can be used for a number of other purposes because it runs on the Linux operating system. For customers who want a portable device that can do more than simply play games, Valve Steam Deck is an excellent alternative because it can run productivity apps, web browsers, and media players. 
It can also be used as a supplementary device for streaming games from a PC or console because it supports both cloud gaming and remote play. Syntech's multifunctional docking station helps the new Steam Deck achieve all of these functions and more. The HDMI port allows swift connection with a larger screen while the USB 3.0 connections help the Steam Deck connect with the different peripherals.
Valve's Steam Deck Pricing & Battery Time Might be its Biggest Enemy 
One thing that every gamer out there was thinking about at the time of the Steam Deck release date was its price. The contemporary handheld devices are currently within the $300 budget whereas Steam Deck went above this price bracket. 
 Steam Deck is available at different prices depending on the memory capacity. The models are currently available at $399 for 64 GB, $529 for 256 GB, and $649 for 512 GB. Gamers understand that the Steam Deck games run best in the highest memory model. The gaming console allows you to add memory cards that can go up to TBs. The addition of TB SD cards is a blessing for all of us who like to horde games for future entertainment. 
Another thing that many find irksome is the battery time of this gaming console. Two hours of gaming after a long charging time can ruin anyone's view of this device. Thankfully, there are many available battery packs to help out with this issue.  
Steam Deck: The Complete Picture
Steam Deck has won the hearts of thousands of gamers globally. We can easily call it one of the most successful handheld devices for gaming. The access to Steam makes it more appealing to the masses who have been collecting games for years. The controls, the processing power, and all the other capabilities come together to make it a huge hit. If you are on the fence about buying this device, we'd like to say that you should just go ahead and buy it.
When you get bored of playing alone, reach out for your Syntech 6-in-1 Multifunctional Docking Station to play with your friends and family.