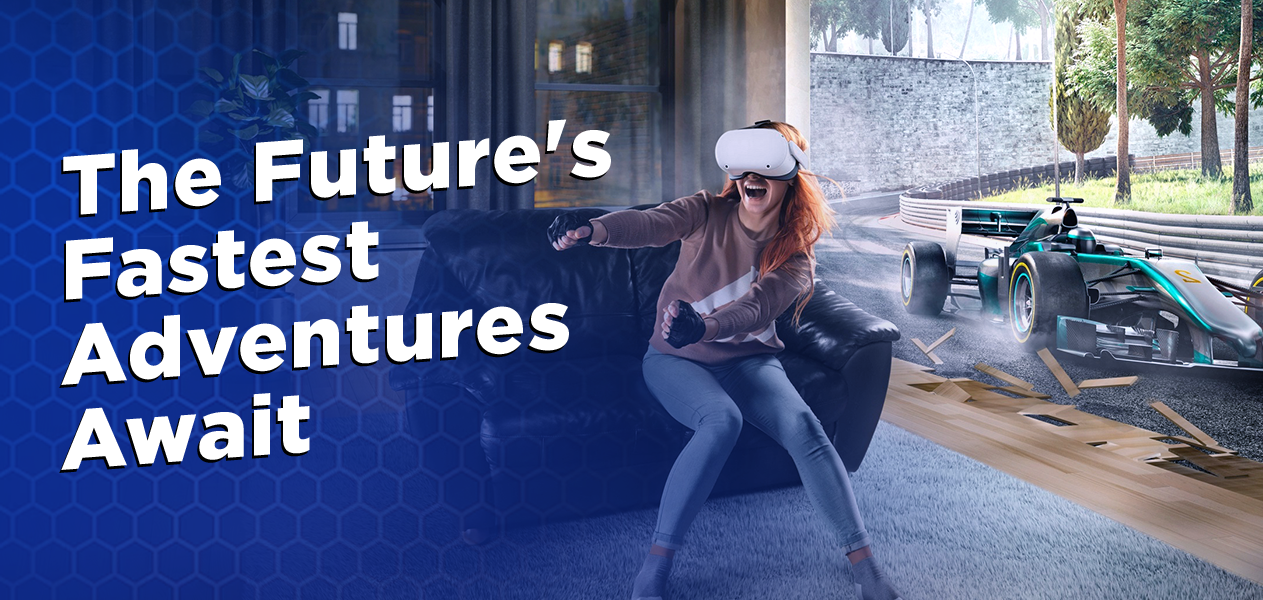 16 VR Racing Games to Put Your Heart in the Fast Lane
Have you ever fantasized about being in a top-tier race vehicle and competing on the toughest courses from the comforts of your own house? VR racing games can turn your dreams into reality, allowing you to not only experience that desire but also fully embrace it.

Virtual reality (VR) headsets, that offer a 360-degree perspective of the track and enhance immersion, allow gamers to experience the exhilaration of racing without being restricted to a regular screen.
In this blog, we will be discussing 16 of the most engaging virtual reality racing games available these days.
Best VR Racing Games for High Octane Adventures
1. Project CARS 2
Project CARS 2 is well known for its meticulousness. It has a huge assortment of vehicles and accurately recreated raceways. Gamers can now experience the exhilaration of racing like never before thanks to VR integration, which raises immersion and your best racing VR games experience to a whole new level.
2. Assetto Corsa
It gives players the impression that they are actually in control of the vehicle. It makes you feel like you are steering around each turn and honing your racing abilities to the top-most level.
3. iRacing
Competitive multiplayer racing is where iRacing shines. It offers the feeling of actual racing in virtual reality, where you can compete against other players, giving the best PC VR racing game experience
4. Dirt Rally
With Dirt Rally, rally racing comes to life in virtual reality. Off-road racing enthusiasts should give it a try because when you put on your VR headset, you're sent to difficult terrains where you can feel every bump and slide as you navigate muddy paths and snowy forests.
5. The Wipeout Omega Collection
Wipeout Omega Collection, the futuristic anti-gravity racing game, now supports virtual reality. You'll be racing at lightning speeds and fighting fiercely with other racers when you fully immerse yourself in the VR experience, adding to the level of excitement.
6. Ultrawings
When it comes to VR racing games VR flying is made possible with Ultrawings. It is a unique option in the racing game genre, offering a realistic cockpit view with gorgeous aerial scenery. It also offers a diverse selection of planes to pilot. The VR immersion is just amazing.
7. Mario Kart Arcade GP VR
Mario Kart Arcade GP VR offers a delightful twist to the classic Mario Kart series. Playing as well-known Nintendo characters in virtual reality adds even more fun and excitement to the racing experience, making it an ideal choice for fans of the series.
8. Radial-G
Radial-G: Racing Revolved delivers an exciting futuristic racing experience on tubular tracks. You will find yourself navigating these gravity-defying tracks at high speeds while holding onto your VR headset to negotiate curves and twists during the VR experience.
9. Thumper
Credit: Photo by XR Expo on Unsplash
Thumper provides a distinctive fusion of music and racing in a dark environment. Players are kept interested and pushed by this unique blend of rhythm and racing.
10. Redout
The fast-paced futuristic racing game Redout is evocative of beloved titles like Wipeout and F-Zero. Fans of the genre will find it among the best VR racing games.
11. Sprint Vector
In Sprint Vector, A distinct parkour twist is added to racing in this game. Gamers navigate vibrant, alien landscapes by running, gliding, and climbing. While competing against friends or AI opponents. This is the best VR racing game it offers an excellent workout and is immensely captivating.
12. DriveClub VR
With VR compatibility, DriveClub VR improves the fantastic DriveClub game. For fans looking for the best free VR racing games, this is a great choice. An added plus is that it offers a realistic driving experience, gorgeous graphics, and a wide variety of cars to drive.
13. Dirt Rally 2.0
This VR racing game, which is a sequel to Dirt Rally, provides even more lifelike off-road racing adventures. You may experience difficult terrains with the VR support, feeling every bump and slide on muddy and snowy trails.
14. The Red Bull Air Race
In this game, you have to navigate difficult courses while flying fast aircraft. You'll feel like a pro aerobatics pilot fighting for the fastest times while racing against the clock in the virtual reality experience.
15. Spintires
Spintires is the original game; it's not a normal racing game. You can drive an off-road simulator here through difficult terrains. Dealing with the perilous muck and rivers becomes even more realistic when you activate the VR mode.
16. TrackMania Turbo

Credit: Photo by Mikhail Nilov: https://www.pexels.com/photo/a-woman-wearing-a-vr-headset-7886839/
TrackMania Turbo is renowned for its fast-paced racing and bizarre track ideas. You can feel the insanity of its stunt-filled tracks in a whole new way with the VR support, which delivers an adrenaline rush unlike anything you've experienced before.
The Future of VR Racing
Virtual reality racing is a dynamic field. As technology develops, we may anticipate more lifelike and engaging experiences. VR racing games include the following features which will continue to push the boundaries of what's possible in VR racing games:
Haptic Feedback Suits
Realistic Physics Engines
Better Graphics
Furthermore, the incorporation of Mixed Reality (MR) and Augmented Reality (AR) components may provide the genre with some fascinating new directions. Soon, gamers might be racing in virtual environments that completely blend with the ones in the real world, offering an entirely new degree of immersion.
Conclusion
VR racing games have completely changed our view about racing. This side of virtual reality gaming will satiate your craving for speed and excitement, regardless of your preference for realistic simulators, futuristic anti-gravity tracks, or playful kart racing.
We can only speculate about what VR racing may look like in the future as technology develops. There's no denying that VR gaming is in its infancy, and players everywhere should expect an exciting ride along the way.